Adele accidentally kisses fan on stage during Vancouver concert
The kiss was filmed by a fan who then posted it on Twitter.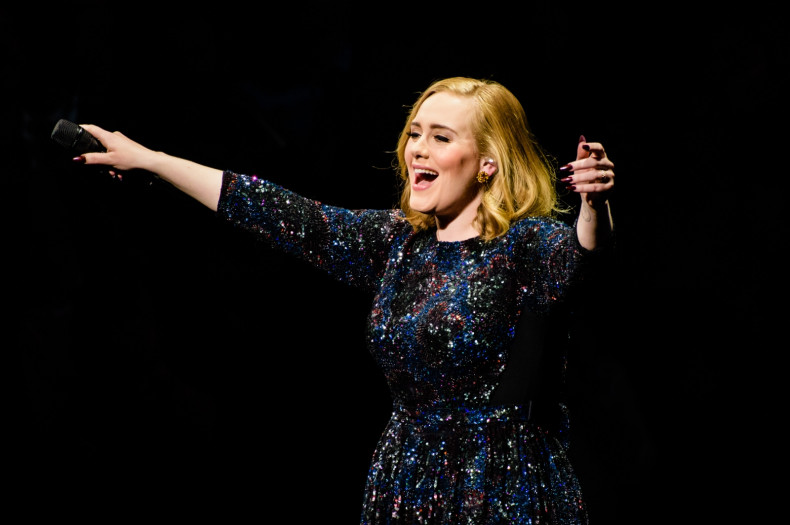 A video of Adele kissing a fan on Wednesday night (20 July), has gone viral. The 28-year-old accidentally brushed lips with a fan during her performance at Vancouver's Pepsi Live at Rogers Arena. The video, which was filmed by a fellow attendee, captures the Hello hit-maker inviting her admirer on stage.
After the fan duets with the British singer, she leans in to hug him, thinking she would give him a kiss on the cheek. However, the quick-thinking fan is seen moving his head a second before, which meant they briefly kissed on the lips.
The singer was left surprised as she covered her mouth and laughed about the moment with the audience, who were just as amused. The fan who kissed the Hello star, then also laughed about his actions before appearing embarrassed as he turned a little sheepish and flashed a coy smile.
"That's the first time I've kissed another man in seven years," she announced.
Fortunately, it was all taken in good humour and they shared a hug and a selfie before he left the stage.
"I can't believe you got my attention and I got you up here and you've come all the way from Nigeria to see my show, that's so silly. I love you too, thanks for coming to my show," Adele said.
The fan, whose Instagram account is called Wisdom, wrote to Adele: "Thank you for such an amazing night. Your voice is as beautiful as your personality. I was trying so hard to keep my cool, for everyone whose seen the video I was sweating, hyperventilating and I just couldn't believe that out of over 20000 people I was the one you noticed and called up on stage with youuuu!"
He added: "Aaaaahhhhhh still freaking out!!!!!!!!!!"
Adele has been dating charity boss Simon Konecki since 2011 and they have a three-year-old son Angelo. The mother-of-one will next play two dates in Seattle before touring across California, where she will play six sold-out shows at the Staples Centre in Los Angeles.