Graphic designers, rejoice – the hours upon hours of struggling to figure out what a type face is will finally be over as Adobe is adding an artificial intelligence tool to help detect and identify fonts from any type of picture, sketch or screenshot.
The DeepFont system features advanced machine-learning algorithms that send pictures of typefaces from Photoshop software on a user's computer to be compared to a huge database of over 20,000 fonts in the cloud, and within seconds, results are sent back to the user, akin to the way the music discovery app Shazam works.
"You highlight the text area that you are interested in being recognised, and it will give you a list of the top five fonts that match what you highlighted," Anil Kamath, Adobe's VP of Technology and head of the data science team told the BBC.
"That applies to an image that you can take with your phone. So, you might write something on a white board, take a picture of it and ask the software to suggest fonts that it corresponds to."
DeepFont was developed by Zhangyang "Atlas" Wang, an electrical and computer engineering student at the University of Illinois, during his internship with Adobe Research in 2014 and it was first demonstrated to the public by Adobe in October 2015, but now the software giant has confirmed that it will be rolling out the feature to Adobe Creative Cloud users.
Shazam for fonts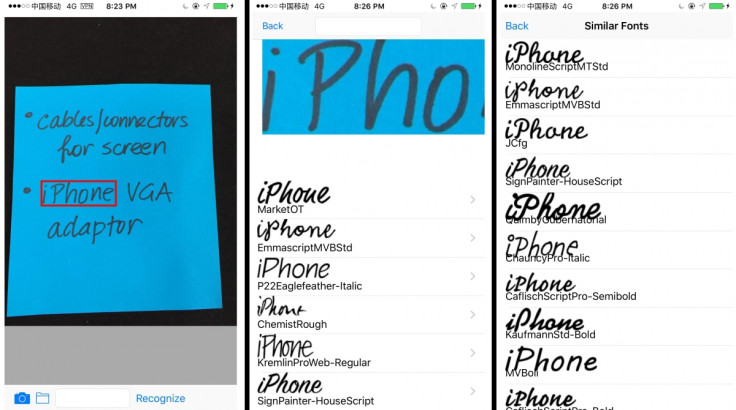 Font recognition is a huge and time-consuming problem affecting graphic designers. There are several free online services that try to guess what a font might be, such as WhatTheFont, Fontspring's Matcherator and Search by Sight on Fonts.com, but often the matches are way off the mark.
This means that design firms often have to pay a lot of money to professionals, who also need to take between 45 minutes to an hour to correctly determine what a font is.
"I'm happy to resolve a need that the design community has been feeling for so long," said Wang. "There's definitely a sense of accomplishment when people like what you've developed, that's a great feeling."
The paper by Wang and Adobe Research entitled, "DeepFont: Identify Your Font from An Image" is published in the Proceedings of the 23rd ACM international conference on Multimedia.