Afghanistan: US now claim bombing of MSF's Kunduz hospital down to Afghan call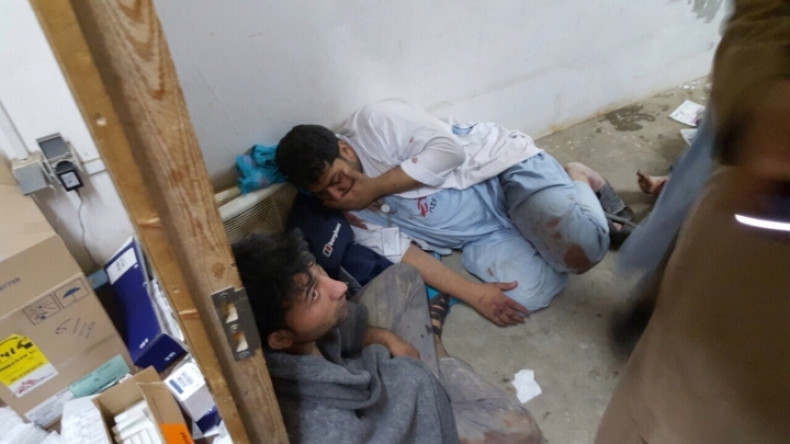 The US said the aerial bombing that hit a hospital in northern Afghanistan killing 23 people was called in by Afghan forces, and was not due to a threat to its own forces, as had previously been claimed. However, the medical charity running the facility expressed disgust at this latest attempt to justify the incident.
Gen John F Campbell, the head of American and coalition forces in Afghanistan, said that the US airstrike that hit the Medecins Sans Frontieres (MSF) clinic in Kunduz during fighting between Afghan troops and the Taliban was not launched in response to threats against US troops, contrary to what previously stated.
"We have now learned that on 3 October, Afghan forces advised that they were taking fire from enemy positions and asked for air support from US forces," Campbell told a press conference. "An airstrike was then called to eliminate the Taliban threat and several civilians were accidentally struck. This is different from the initial reports, which indicated that US forces were threatened and that the airstrike was called on their behalf."
The general added an investigation into the incident had been launched. "If errors were committed, we will acknowledge them," he said.
MSF accused the US of attempting "to pass responsibility to the Afghanistan government." MSF general director Christopher Stokes said: "The reality is the US dropped those bombs. The US hit a huge hospital full of wounded patients and MSF staff. The US military remains responsible for the targets it hits, even though it is part of a coalition. There can be no justification for this horrible attack."
The bombing came as Afghan troops were fighting to re-take Kunduz after Taliban militants swept into the strategic city last week. In the aftermath of the air strike, the Afghan defence ministry claimed "armed terrorists" had been hiding inside the hospital, but MSF, which lost 13 members of staff in the incident, denied that.
"MSF is disgusted by the recent statements coming from some Afghanistan government authorities justifying the attack on its hospital in Kunduz," said Stokes. "These statements imply that Afghan and US forces working together decided to raze to the ground a fully functioning hospital – with more than 180 staff and patients inside – because they claim that members of the Taliban were present. This amounts to an admission of a war crime."
The NGO said that it had informed both Washington and Kabul of the hospital's coordinates and demanded a throughout and independent investigation.