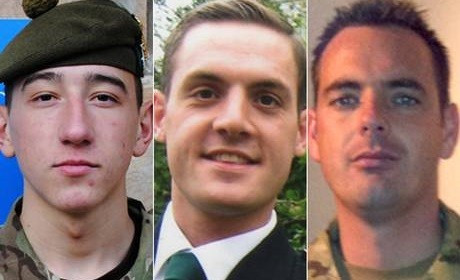 Tributes have been paid to the three British soldiers who were killed when their armoured vehicle was struck by a roadside bomb in Afghanistan.
The Ministry of Defence (MOD) identified the soldiers as Cpl William Savage and Fusilier Samuel Flint, both from 2nd Battalion The Royal Regiment Of Scotland, and Pte Robert Hetherington, from 7th Battalion The Royal Regiment Of Scotland.
All three died after their vehicle was struck by an improvised explosive device (IED) whilst on a routine patrol in Helmand province on 30 April.
A further six British soldiers were injured and nine Afghans were killed in the blast.
Savage, 30, from Irvine, Ayrshire, leaves behind a wife, Lyndsey, who is expecting their first child. He joined the army in 2003 and had previously completed two tours of Afghanistan.
His wife said in a statement: "I am completely devastated by this news but extremely proud of 'Sav' and everything that he has achieved.
"I have lost the love of my life and the father of our son. I know his life will live on through so many amazing memories that we shared together. He will be deeply missed amongst family, friends and the regiment."
Lt col Robin Lindsay described Savage as a "brilliant soldier and a remarkable man".
Exceptional men who served their country with distinction
Lindsay added: "The loss of Corporal Savage has been a hammer blow to the Battalion and the Regimental family. We are all immensely proud to have known him and we will miss him dearly."
Fusilier Flint, 21, joined the army in 2011 and was on his first overseas draft. His family described him as "the life and soul of the party", adding: "He was a loving son, the protective brother, courageous nephew, the caring uncle, the loyal grandson that anyone would wish to have."
Lindsay said Flint was "a soldier brimming with skill and ability". Mjr Stephan Dallard added Flint was the "epitome of the selfless commitment and dedication that is expected of our young soldiers today".
Pte Hetherington, 25, who was born in the US but raised and educated in Scotland, enlisted in the Territorial Army in October 2006.
Lindsay said he epitomised "everything that is excellent about the reserve forces".
Lance Cpl Russ MacLean said: "Bobby was my best friend. He was the life and soul of the party and one of the kindest and friendliest people I have ever met.
"He had a loving and caring family, along with his girlfriend Maeve, and my thoughts are completely with them."
Defence Secretary Philip Hammond said: "I was deeply saddened to learn of the deaths of these soldiers, each highly praised and respected by their colleagues and commanders. It is clear from the tributes paid to them that they were exceptional men who served their country with distinction.
"My thoughts go out to the families and friends of these brave men at this very difficult time."
Prime Minister David Cameron said that the country had paid a "very high price" for its work in Afghanistan, but added it was vital to ensure the country "doesn't again become a haven for terrorists".
Scotland's First Minister Alex Salmond said: "This incident demonstrates once again the dangers faced by our armed forces, often on a daily basis, and they deserve our deepest gratitude and respect for the job they do in some of the most difficult and trying circumstances imaginable."
Their deaths bring the total number of British fatalities since operations began in Afghanistan in 2001 to 444, with six occurring this year.