Afghanistan: A timeline from departure of British troops to the fresh battle for Sangin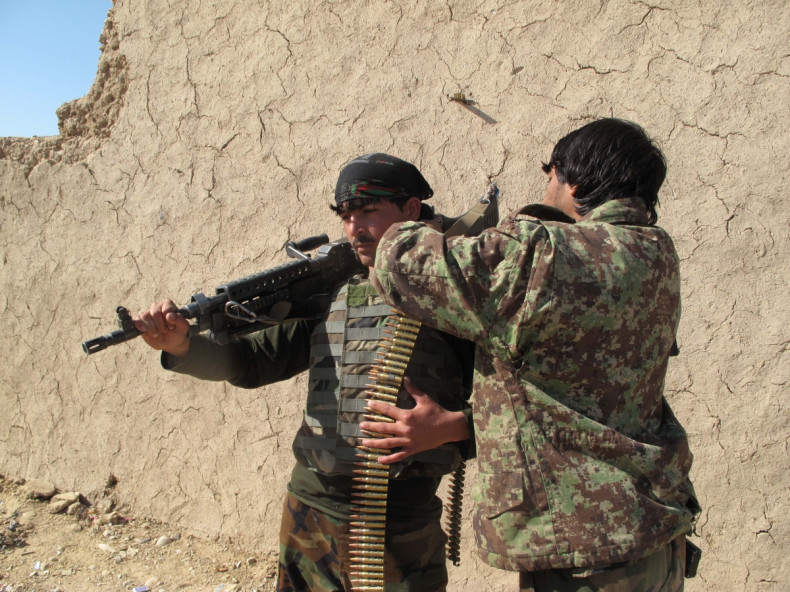 It has been more than a year since the last British combat troops were pulled out of Afghanistan amid the gradual handover of control by Nato to Afghan security forces. But now UK military personnel have been redeployed to Sangin, Helmand Province, to shore up a battle against the Taliban for the strategically important town. Here is what happened in between.
27 October 2014: The last British troops leave Afghanistan
More than 13 years after they first entered the country to depose the Taliban and destroy the terrorist training infrastructure used by al-Qaeda, as part of a US-led Nato force, the last British troops pulled out of their base in Helmand Province.
In all, 453 of them had been killed in the war. Nato's combat mission had formally ended, though some Western troops remained to support and train Afghan forces -- 10,000 of them from the US. Their presence was to be whittled down by the end of 2016. Though the Taliban had been removed from power, and elections held, Nato's legacy from a long, deadly and unpopular war was both unclear and unstable.
There were serious doubts about the efficacy of Nato-trained Afghan security forces, who would now take control. Could they maintain order against attack by a weakened, but not defeated, Taliban?
5 January 2015: A Taliban suicide bombing targets European police mission in Kabul
A Taliban suicide bomber detonated himself in an explosives-packed car in Kabul, right beside the headquarters of Eupol, the European mission to train Afghan police. The target was a convoy of Eupol vehicles. One Afghan civilian was killed and five others injured in the attack.
18 January 2015: First reports emerge of Isis fighters enter Afghanistan
Islamic State, also called Isis or Daesh, sets up a base in Afghanistan and tries to recruit fighters, Lieutenant-General Murad Ali Murad, commander of Afghan army's ground forces, tells Al-Jazeera. The two groups clash leaving 20 dead, Saifullah Sanginwal, a tribal leader in Sangin district, tells CBS News.
12 February 2015: US forces are still conducting raids on Taliban targets
In what the New York Times calls a "secretive war" in Afghanistan, US and Afghan forces work together in a raid to arrest several Taliban fighters linked to a bloody attack on a school in Peshawar, Pakistan. It is one of a number of raids the US has participated in, despite the formal conclusion of Nato's combat mission.
"The spike in raids is at odds with policy declarations in Washington, where the Obama administration has deemed the American role in the war essentially over," said the NYT report. "But the increase reflects the reality in Afghanistan, where fierce fighting in the past year killed record numbers of Afghan soldiers, police officers and civilians."
White House officials say the raids fall under the counter-terrorism remit of its remaining forces in Afghanistan. Later in February, the US 7th Infantry Division headquarters -- a 250-strong senior administrative unit of the military -- was deployed to southern Afghanistan.
18 March 2015: US troops to stay longer
A report from Reuters, citing a senior US official, said the Obama administration would slow the pace of its full withdrawal from Afghanistan and that US military bases in Kandahar and Jalalabad would remain open beyond the end of 2015, despite plans to close them sooner. The US had originally said it would halve its troops to 5,000 by December 2015 and only keep its Kabul and Bagram bases open in 2016. The reason for the change in strategy was said to be a desire to avoid making the same mistake of a premature exit as it did in Iraq.
3 May 2015: Record Afghan security forces casualties
As the Afghan forces took on a greater role in the security of their country, so did their casualty figures rise. The number of those killed or wounded jumped 70% in the first three months of 2015 and averaged at around 330 every week, disclosed the Afghan military. By the end of the first-half of 2015, fatalities had hit 4,302. A further 8,009 had been wounded. That meant an average weekly casualty toll of 473. In the whole of 2014, the previous peak, there had been 3,337 killed and 5,746 wounded.
22 June 2015: The Afghan parliament is attacked by the Taliban
Dramatic footage emerged of the moment brazen Taliban fighters struck in the heart of Kabul by launching an assault on the Afghan parliament. A car bomb outside the building heralded the attack by six Taliban, armed with AK-47s and RPGs, (Rocket-Propelled Grenades) who tried to storm the parliament but were repelled by Afghan security forces. Two civilians, a woman and a child, were killed and 28 wounded. All six militants were killed in a gunfight.
6 July 2015: A two-day summit for peace talks takes place
Despite the fighting, leaders from the Afghan Taliban and the Afghan government met in Pakistan for a two-day peace talks. Though similar talks had taken place in the past, this was the first time they had been recognised officially. At the conclusion of the talks, the two parties agreed to more meetings later on. It was hailed as a significant step towards peace in war-torn Afghanistan.
30 July 2015: Mullah Omar is dead
The Taliban's founder, Mullah Mohammed Omar, was officially declared dead. Though he died in April 2013, this had not been publicly recognised by the Taliban until now. Mullah Akhtar Mansoor, a pre-war governor of Kandahar, was chosen as his successor, causing division and dissent within the Taliban, and stalling the burgeoning peace talks. Mansoor was said to favour the peace dialogues. But the Taliban's Mullah Mansoor Dadullah opposed Mansoor's appointment and created a splinter group. An internal war broke out between the Taliban factions. Dadullah was reportedly killed in battle in November 2015.
28 September 2015: The Taliban take control of Kunduz
Months of fierce fighting around the city of Kunduz culminated in its capture on September 28 by the Taliban, who drove Afghan security forces out altogether. They had previously taken control of parts of the city in small skirmishes. It was the first time since the dawn of the war in 2001 that the Taliban had seized control of a major city. Nato special forces were sent in to help the Afghans retake the city. They regained control of the main areas by October 1, though the Taliban still held on in some parts of the city and continued to resist strongly.
3 October 2015: A Kunduz hospital is hit
Over 30 civilians were killed, including a dozen aid workers, when a US airstrike on Kunduz hit a Medecins Sans Frontieres (MSF) hospital in the city. MSF accused the US of "gross negligence". The US was trying to support Afghan forces in their counter-offensive operations to recapture the city in its entirety from the Taliban. President Obama apologised for the mistake which officials put down to human error.
22 December 2015: British military personnel deployed amid the battle for Sangin
Taliban forces are close taking control of Sangin, an important town in Helmand Province, amid a raging battle with Afghan security forces. US and UK special forces were drafted in support of the Afghan government. Sangin is strategically important. It has fallen to the Taliban several times and fighting for control of the city has cost as many as 100 British troops their lives.
In response to the latest crisis, Britain announced a small number of UK personnel had been deployed to Camp Shorabak in Helmand province in an advisory role. "These personnel are part of a larger Nato team, which is providing advice to the Afghan National Army. They are not deployed in a combat role and will not deploy outside the camp," a Ministry of Defence spokesman said.
A day earlier near the US army's Bagram base, six US troops were killed by a Taliban suicide bomber on a motorbike. The bomber had targeted a joint patrol of Afghan and US forces.