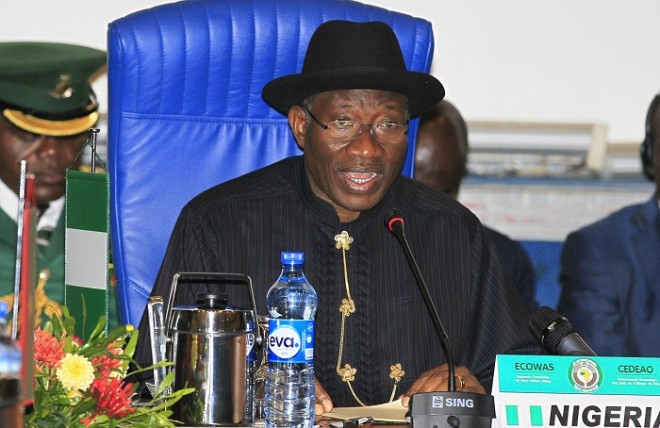 Nigerian President Goodluck Jonathan has described militant Islamist group Boko Haram as "West Africa's al-Qaida."
He was speaking at an international security summit in Paris hosted by French President Francois Hollande, with British Foreign Secretary William Hague and leaders of several African countries in attendance.
The summit was called to devise an action plan to fight the Islamist rebels responsible for the abduction of over 200 schoolgirls from the village of Chibok on 14 April.
In an emotional address, Jonathan said: "We have shown our commitment for a regional approach. Without West African countries coming together we will not be able to crush these terrorists."
He added that Boko Haram was no longer a local terrorist threat but was "acting clearly as an al-Qaida operation".
The Nigerian president was under pressure from the international community to deal more effectively with Boko Haram.
UK Foreign Secretary Hague urged him to improve Nigeria's security forces and provide a "more effective response", following criticism that the government failed to act on early information about the abduction.
Hague said Nigeria needed to work more closely with the neighbouring states of Cameroon, Niger and Chad, to create an "intelligence cell" to combat the rebel forces.
As fears mount that the insurgents will spread beyond its borders, posing a threat to the wider region, Chad's president Idriss Deby said countries neighbouring Nigeria were ready to wage "total war" against the militants.
"There is determination to tackle this situation head on ...to launch a war, a total war on Boko Haram," he said.
Cameroon's President Paul Biya reiterated the sentiment: "We are here to declare war on Boko Haram".
At the close of the summit President Hollande said participants had agreed on a "global and regional action plan" that involved "co-ordinating intelligence, sharing information... border surveillance, a military presence notably around Lake Chad and the capacity to intervene in case of danger".
The kidnapping of the schoolgirls prompted a global outcry, with the international community galvanising efforts to find the missing girls. Britain, France, China and US have sent specialist intelligence teams and equipment to assist in the investigation.
Boko Haram have demanded the release of imprisoned militants in exchange for the release of the schoolgirls, however President Jonathan has ruled out the possibility of any such negotiations.
He said, however, that he is "totally committed" to finding the 223 kidnapped girls.
On the day of the summit, more outbreaks of violence were reported, as Islamist rebels attacked a Chinese plant in the north of Cameroon, killing one worker and abducting a further 10.