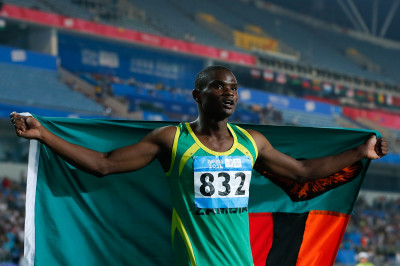 The battle between the world's current fastest sprinter, Sydney Siame (Zambia), and the fourth fastest, Thando Roto (South Africa), could be one of the highlights of Monday's Memorial Josef Odlozil Meeting in Prague on Monday night.
Siame and Roto certainly can claim to be two of the most improved sprinters. Last year Siame's best time in the 100m was 10.28sec.
In April he has improved it to 9.88 which for now is a world leading time. Roto started the season with a best time of 10.29 and improved it to 9.95 in March.
The question now is how consistent are they going to be, and Monday should give a good indication. It is interesting to note that the African record is 9.85.
Since 2013 when Roto won the South African junior title in the 100m it was predicted that the youngster has what it takes to become a world class sprinter but the opposite happened.
His athletics career stuttered from one setback to another leading to him doing more hours of rehabilitation than he planned on doing.
The Tuks athlete definitely had ample opportunity to quit on his dream to become one of South Africa's fastest men but he refused to because that is just not who he is.
In March his dedication and perseverance at long last paid off when he became only the fifth South African sprinter to dip under 10 seconds in the 100m.
Roto's breakthrough race at the LC de Villiers stadium was in fact historic as it was the first time that two local sprinters both clocked times faster than 10sec in the same race. Akani Simbine won running 9.92 with Roto second in a time of 9.95.
At the South African Championship in Potchefstroom Roto proved that his sub 10-second effort was no fluke when he raced to time of 10.04. With a bit of luck or one last desperate surge he might have dipped under ten again.
Being the perfectionist he is Roto naturally would have wanted to run a faster time. However he is not too despondent. He is confident that running real fast times will become a mere formality in the foreseeable.
Monday is the first time that he will be racing since the national championships.
"In the built-up to the World Championships in London I want to do at least one sub 10 second race, at the champs itself I hope to do at least two sub tens and at the World Students Championships I want to do two sub 10-second races.
I know at times I tend to dream to big but that is who I am. If you are not able to believe in your own abilities nobody else will," said Roto showing his steely resolve to be the best he can be.
Siame won a gold medal at the 2014 Summer Youth Olympics in Nanjing.
Henricho Bruintjies who is one of South Africa's five sub 10-second sprinters is also racing on Monday. The Tuks athlete is still battling to regain the form which saw him running 9.97 in 2015 in Switzerland.
Werner Prinsloo (coach) indicated that he advised Bruintjies not to get obsessed with running sub ten seconds at the moment as it is more important for him to qualify for the World Championships in London.
"As his coach I would be happy if he runs a low 10-second race on Monday but who knows on a good day anything can happen."