With no progress made in relation to implementing a power-sharing deal deal struck on 31 December 2016, the international community is now concerned over a political 'stalemate' situation in the Democratic Republic of the Congo (DRC),
The African Union (AU), the United Nations (UN), the European Union (EU) and the Organisation internationale de la Francophonie (OIF) addressed the "persistent stalemate in the dialogue" between President Joseph Kabila's majority and the opposition.
Historic opposition leader Étienne Tshisekedi was set to oversee transition of power to a new unity government under a power-sharing deal, thus paving the way for a peaceful handover.
However, Tshisekedi – aged 84 – died on 1 February and rows sparked over whether to hold a national funeral for the symbol of resistance. Negotiations related to the agreement also stalled as a result.
The majority rejected a possibility of relaunching negotiations before Tshisekedi's burial, with government spokesperson Lambert Mendé saying: "We are in mourning". The opposition, meanwhile, is pushing for a rapid establishment of the transitional institutions.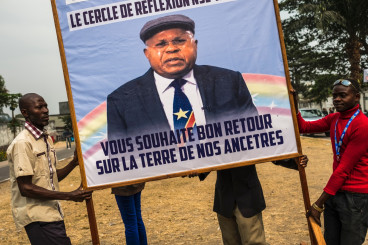 "Since the departure of the representatives of the Cenco [Congolese National Episcopal Conference that brokered the agreement] on mission abroad, it has dragged a bit," Saïd Djinnit, the UN special envoy for the Great Lakes, said. "There is, unfortunately, the death of Etienne Tshisekedi."
In a joint statement, the four organisations pointed out the negotiation process is still ongoing despite it being six weeks since a deal was signed to implement the agreement for Kabila to govern only until 2017's end-of-year elections.
"We believe that the dialogue that was initiated by President Kabila and that could have the backing of the entire political class must be able to continue. I think we should continue on the same track," Djinnit said.
"The Congolese parties, both the majority and the opposition, must not fail in their duty towards the Congolese people. It is imperative that they return to the discussion table to resolve the remaining outstanding issues and commit themselves resolutely to implementation."
Earlier this week, the Congolese government said it cannot afford $1.8bn (£1.5bn) to organise much-anticipated elections in 2017. Not holding timely elections could potentially shift DRC's political landscape for better or for worse, with instability and insecurity in the country likely to rise.
With time fast running out for a successful electoral process, Djinnit said: "The stakeholders in the December 31 agreement, have set themselves the objective of organising presidential, legislative and other elections at the end of this year. And if you want to have elections before the end of the year, you would have to get involved in the implementation of the agreement. This is the only way to maintain the stability of this country during this fragile period."
The leaderless Le Rassemblement opposition coalition has promised to designate a successor to Tshisekedi at its head, within 48 hours.