The 2017 general election saw the biggest age gap in British political history since the 1970s, analysis of the snap vote released on Tuesday 20 June has revealed.
The research from Ipsos MORI, the pollster which has been studying UK general election results since 1979, found that there was a swing to Labour among under 44s, while there was swing to the Conservatives among over 55s on 8 June.
"This is the biggest age gap we've seen in elections going back to the 1970s," an Ipsos MORI spokesperson said.
"Although (as in previous elections) the swing among women and men overall was similar, there was a difference between young men and young women.
"Among 18-24 year olds, Labour increased its vote share much more among women than men."
The study also found that the turnout rose most among young people, while it fell very slightly among older people. Older people were still much more likely to vote overall.
Ipsos MORI found that education also represents a clear divide between the UK electorate.
"The Conservatives had a large 17-point lead among those with no qualifications, and a smaller seven-point lead among those educated to below degree level. Among graduates, Labour had a 15-point lead," the pollster said.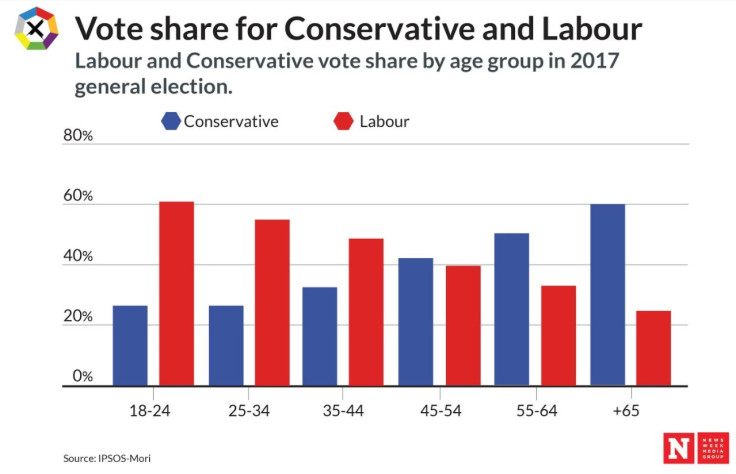 Elsewhere, the research revealed that labour led the Conservatives by 47% to 33% among Remain voters at the EU, while the Conservatives beat Labour by 46% to 39% among Brexit backers.
The analysis comes just under two weeks after the general election, which saw the Conservatives lose 13 seats and their majority in the House of Commons. Labour, meanwhile, gained 30 extra seats and Jeremy Corbyn increased the party's share of the vote to 40% (+9%).
The UK has now entered into the two-year-long divorce talks with the EU, with Britain facing a hung parliament and Prime Minister Theresa May's future in Number 10 looking uncertain.