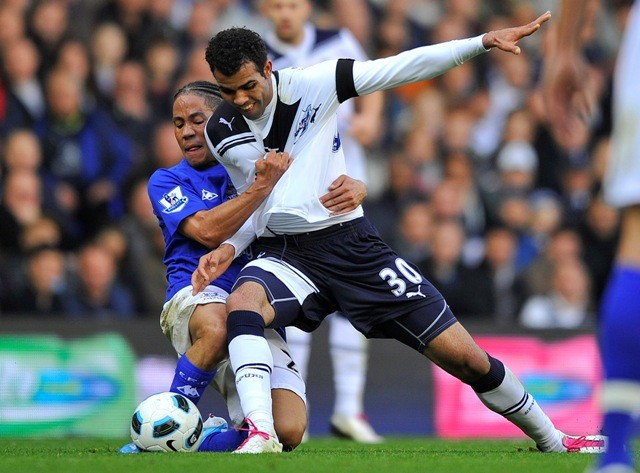 The agent of Tottenham midfielder Sandro has dismissed reports linking the Brazilian with a move to their Premier League rivals Manchester United.
The athletically robust midfield powerhouse has been outstanding for Harry Redknapp's hugely vaunted Tottenham outfit recently and the 22-year-old had reportedly caught the eye of Manchester United boss Sir Alex Ferguson.
Despite admirably maintaining the pace on Premier League leaders Manchester City, many have cited Manchester United's perceived midfield weakness a possible reason to back Roberto Mancini's side, and the aforementioned Tottenham star has been mentioned as a potential remedy.
Manchester United are currently negotiating a lengthy injury list that includes the likes of Anderson, Tom Cleverley and most recently Darren Fletcher, and although Sir Alex Ferguson is notoriously reluctant to do any major business in the January window, Sandro, who Tottenham signed in March 2010, has been heavily linked with a move to Old Trafford.
The Tottenham youngster's agent admits he has read plenty about Manchester United's alleged desire to sign the tough tackling former Internacional starlet, but confirmed Spurs were yet to receive a formal enquiry from Sir Alex Ferguson.
"Much has been said of the interest of Manchester United in the British media, but Tottenham hasn't had any offers at this time." Luiz Paulo Chignall told BundesLigaPremier.it:
"We have not received formal proposals for the transfer of Sandro, although in the papers have appeared much speculation about the market.
"We know that Sandro is a player of value, who is part of the national team and many teams are inquiring about his situation." Chignall concluded when discussing the in-demand Tottenham youngster.
Manchester United continue to be associated with a host of the world's best midfielders. In addition to the Tottenham player previously mentioned, Sandro's White Hart Lane colleague Luka Modric, has also been strongly linked. Wesley Sneijder, Mesut Ozil and Jack Rodwell are a just a few of the other names tenuously connected to United.