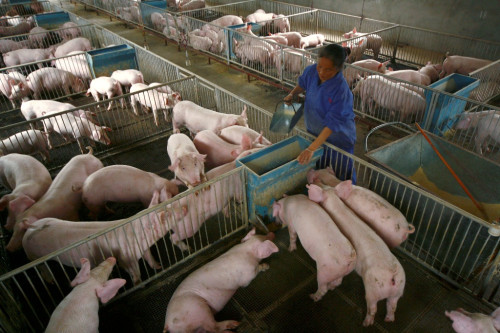 America investors are growing increasingly wary of US-listed Chinese companies amid a US Securities and Exchange Commission probe into alleged securities violations by AgFeed Industries, a bankrupt China-based pork producer.
Earlier in the month, AgFeed filed a statement in a US bankruptcy court corroborating that some of its Chinese farm operations had reported "fictitious" sales from 2008 through the first half of 2011.
Managers in China openly talked about their methods for manipulating the company's financial results, e-mails translated from Chinese and other documents obtained by Bloomberg showed.
The company's executives and directors withheld information about the alleged financial irregularities from American shareholders for several months, corporate documents showed.
The alleged AgFeed scam went unnoticed by auditors and underwriters. It highlights the risks for American shareholders, said Lynn Turner, a former chief accountant at the SEC.
For instance, Thomas Snodgrass, a financial adviser in Houston, who invested $169,332 in AgFeed in June and August of 2008, does not intend to buy any more shares in US-listed Chinese firms.
"What's the difference between investing in a Chinese company where you can't do your homework and going to Las Vegas to play at the craps table?" Turner said.
"At least at Las Vegas you get some entertainment value," he told the news agency.
"I thought, 'Oh my God, with an under-industrialised society and the emergence of that industry, well then they should be well positioned to capture a whole lot more market share," said Snodgrass.
"It's just out and out fraud when it comes down to it. And by the time we hear it, you're screwed, because the price is already moving; it's going to tank. You can't get out of it," Snodgrass added.
SEC Probe
The US SEC informed Agfeed on 29 August that it was considering enforcement action against the firm for alleged breach of securities law.
AgFeed filed for Chaper 11 bankruptcy in July.
Since 2010, the SEC has deregistered 60 China-based issuers.
More than $100m that AgFeed raised in the US between 2007 and 2009 was routed to China with little supervision, the documents indicated. The money was used to acquire 29 hog farms in five provinces by October 2008, a move aimed at boosting production and revenues.
AgFeed was among the more than 370 Chinese companies that raised funds in the US between 2004 and 2011 through reverse mergers. In a reverse merger, a private entity buys a shell company that is already listed as a substitute to floating an IPO.
The case is In re AgFeed USA LLC, 13-bk-11761, U.S. Bankruptcy Court, District of Delaware (Wilmington).