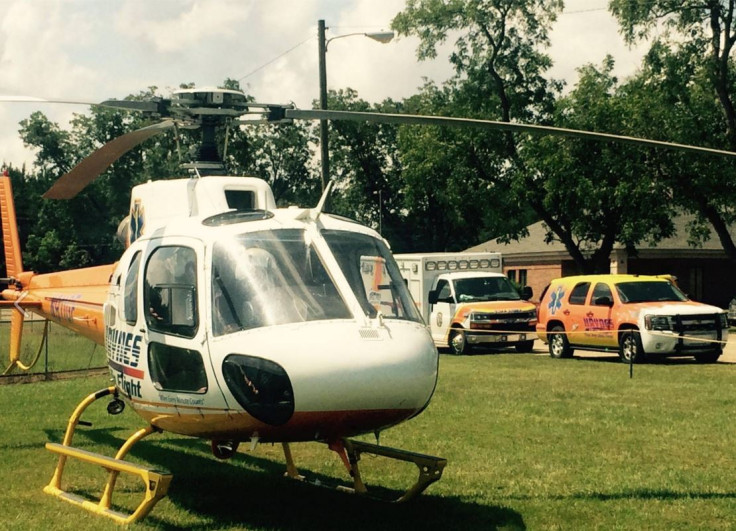 An air ambulance crashed in Alabama minutes after take-off killing all four people on board, including the patient, officials said. The Eurocopter AS350 went down into a heavily wooded area near Goodman, Coffee County.
The victims were named as pilot Chad Hammond, flight nurse Stacey Cernadas, flight medic Jason Snipes and patient Zach Strickland, by the Alabaster Fire Department, who thanked Snipes for his "service and sacrifice" and said he would be missed.
Strickland had been knocked out and broken his leg in a car accident on the night of 26 March, although no other vehicles were involved, Coffee County Emergency Management Agency Deputy Director James Brown told the Troy Messenger newspaper.
"They picked up a patient, from what I understand he had a broken leg and was unconscious," he said. "We don't really know what happened," Brown said, adding the crash was "very soon after take-off, within three minutes." He would not speculate on what caused the crash, but said the aircraft was discovered about four miles from the car accident site. Recovery efforts could take days, he said.
Operated by Haynes, an Alabama company, it was heading to a hospital in Alabama's state capital, Montgomery. The company's chief operating officer called the incident a "horrible tragedy".
It was reported missing at around 12.17am on 27 March but it took investigators almost seven hours later because it crashed into a heavily wooded area, forcing the searchers to used bulldozers, Alabama Law Enforcement Agency captain Tracy Nelson told the Dothan Eagle newspaper. Heavy rain and fog had also prevented them from sending up search aircraft to look for the helicopter, he said.
The US's National Transportation Safety Board said they would be investigating the incident. They often issue preliminary reports within days of an incident. An official from the Federal Aviation Administration also attended the scene.
The Troy Regional Medical Center where the air ambulance was based, said they were "saddened by the tragic loss," and they would "be in prayers for their families."
It was the second helicopter crash in south-east Alabama in less than a week. An Ft. Rucker aircraft went down near the Dothan Airport Monday, injuring three people.