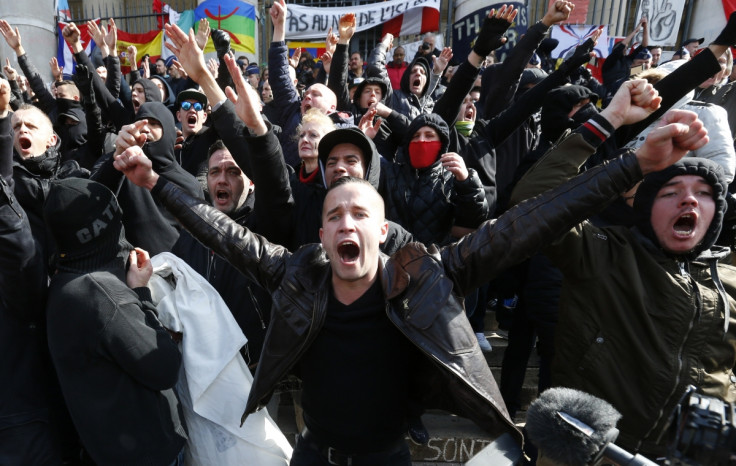 About 400 "fascists" and football "hooligans" clashed with a group of Christian and Muslim peace protesters in central Brussels on Easter Sunday, prompting riot police to intervene with water cannons. The black-clad group, some of who said they represented Fascists Against Terrorism, briefly managed to disrupt the peace rally, which was held in La Place de la Bourse to show solidarity between different religions following the terrorist attacks on the city on 22 March.
Some Muslim women taking part in the peace protest who were wearing headscarves were accosted, according to a BBC reporter in the square.
The far-right group appeared to be linked to football hooligans, with one banner declaring they were "Casuals Against Terrorism". Casuals is a name used to refer to soccer gangs who do not wear club colours. They were quickly forced back when police moved in with two water canon vehicles and canisters of CS spray.
One of the far-right activists told The Daily Telegraph: "I came from Antwerp by train. These people are in hooligan firms from all over Belgium. There's a massive police presence."
During a stand-off, missiles were seen being thrown in both directions between the two groups, until the police marched forward, pushing back the group of "fascists" with the aid of a water cannon.
'Skinheads' arrived in force
Adrian Liston, who was in the square, told BBC News that there had been a "bunch of people showing solidarity with Brussels and Belgium" with a "lot of positive energy".
But then, he said, "a bunch of skinheads turned up in force, really marching into the square, creating a major confrontation with the peace protesters".
"They were really starting to get into the face of the peace protesters and starting to get into the face of the police. They started fireworks going, started chanting and it was really looking quite ugly," Mr Liston said.
However he said the riot police, who appeared to have been waiting nearby, quickly moved in to separate the two groups.
"It's been pretty non-violent, although it could have flared up," Mr Liston said, adding that he could now see children "blowing bubbles" as normality returned to the peace rally.
The peace protest was held despite a request from the police to cancel it because they said they were over-stretched dealing with the investigation into the suicide bomb attacks on the international airport and an underground station.