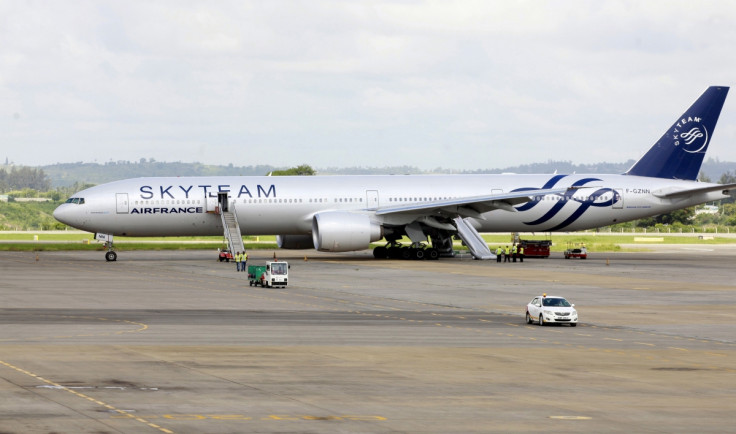 A bomb scare that caused an Air France flight to make an emergency landing in Kenya was a false alarm, the airline said. Flight AF463 from Mauritius to Paris was forced to land in Mombasa, after passengers alerted cabin crew of a suspicious device on board.
All 459 passengers and 14 crew were evacuated from the Boeing 777 and investigators retrieved an object described by a police official to AP as "a stopwatch mounted on a box" from a plane lavatory.
After a few hours Air France Ceo Frederic Gagey told a press conference in Paris the suspicious item was in fact made only of cardboard, paper and a household timer. "This object did not contain explosives," he said.
The information confirmed reports quoting anonymous Kenyan security sources as saying that the device was taken apart by bomb experts during a preliminary examination that did not reveal any explosive. Six passengers, including the man that first reported the suspicious finding, were questioned by detectives in connection with the incident.
Fake 'bomb'
Kenya Airports Authority initially issued a Facebook statement confirming the device was indeed a bomb, but the message was later corrected to with references only to a "suspicious object".
The airliner was making its way to Charles de Gaulle airport in the French capital when pilots requested an emergency landing at the Moi International Airport in the coastal city. "It requested an emergency landing when a device suspected to be an explosive was discovered in the lavatory," police spokesman Charles Owino said.
A passenger said the evacuation went smoothly and they did not feel in danger at any time. "The plane just went down slowly, slowly, slowly, so we just realized probably something was wrong," Benoit Lucchini of Paris, told reporters at the airport.
Fellow passenger Steven Ciaran, a 30-year-old from Ireland maintained commotion in the cabin caused him some distress but the crew were very efficient in keeping everyone calm. "I was very distressed because I could see we were far from the destination," he told AP. "I thought the plane had difficulty and not that it had anything to do with terrorism," he said.
AF463 was the fourth Air France flight to be diverted over a bomb threat in recent weeks. No bomb was found also in the previous occasions. France has been on high alert following the Islamist attacks that killed 130 people in Paris In November.