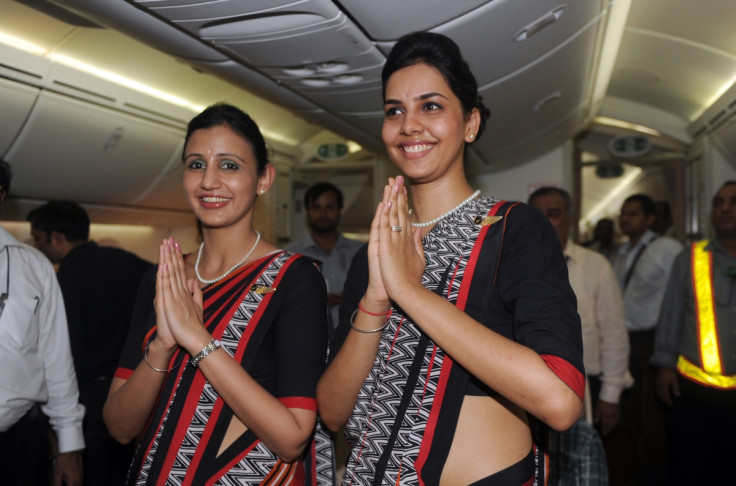 India's national carrier Air India has grounded 125 "overweight" cabin crew members, it has emerged. The airline told 600 crew members to "shape up" last year following BMI recommendations made by an aviation regulator. It claimed that "unfit" cabin crew are unable to work efficiently and in a timely manner under emergency circumstances.
Air India's crew were tested and 600 deemed "overweight" or "obese". They were classed as "temporarily unfit" for flight duties and given 18 months to lose weight or risk being declared "permanently unfit" to do their job as flight attendants.
However, Anoop Misra, Chairman of the National Diabetes, Obesity and Cholesterol Foundation, has dismissed the claims. He said that a BMI rating alone was not enough to conclude whether a person was fit.
He said: "A person could be normal weight and unfit, or they could be fat and fit. These cabin crews, like pilots, should undergo yearly tests by physicians to consider if they are fit or not, not merely on BMI alone."
The DGCA's regulations stated that the normal BMI for a male is 18-25, while for a female it is 18-22. However, Misra points out that the average BMI for Indians is 23 and cited Air India's BMI limits as "unscientific". The medical expert also said that waist circumference would be "a more robust criteria" for determining metabolic fitness.
Air India sources said that some of the cabin crew declared "permanently unfit" for flight duties may be offered ground duties, while others might be offered voluntary retirement.
This isn't the first time the airline has courted controversy over the appearances of its staff. In 2004 Air India came under fire for saying that air hostesses should not have scars or acne on their faces. In 2009 nine female flight attendants were dismissed for being "overweight".
Misra said: "If a person is doing daily exercise for 30-45 minutes per day, has normal blood pressure, normal blood sugar, lipid and organ functions, and his or her treadmill test is negative, he or she could be considered as fit."
Air India could not be reached for comment.