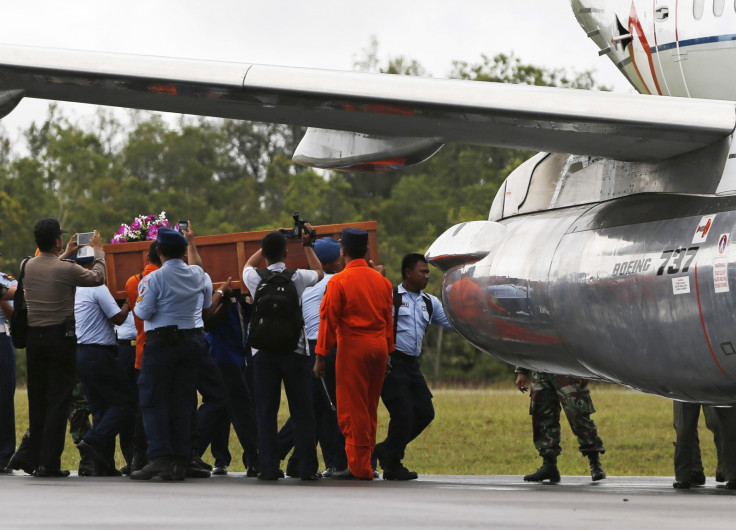 The first bodies recovered from the AirAsia plane crash have been flown to Indonesia to be formally identified.
The A320-200 Airbus, carrying 162 passengers and crew, disappeared over the Java Sea an hour into its flight at 06:24 local time on Saturday (27 December).
On Monday (29 December) Australian P-3C Orion reconnaissance aircraft detected objects in the sea, which were suspected to be related to the missing flight.
Indonesian authorities also confirmed sightings of objects resembling a plane's emergency slide and door.
On the third day of the multi-national search, the teams spotted bloated corpses floating in the shallow Indonesian waters.
40 bodies have so far been retrieved from the Java Sea, including that of a female flight attendant in her red uniform. Many of the dead were believed to be still inside the jet's fuselage.
The bodies of a woman and a teenage boy have been flown on an Indonesian military plane to Surabaya. hey were taken to hospital for examination and identification, using DNA taken from relatives.
AirAsia is offering an immediate advance of money to the grieving relatives of the 155 passengers.
About 30 ships and 21 aircraft from Indonesia, Australia, Malaysia, Singapore, South Korea and the United States have been involved in the search.
The recovery operation has since been suspended due to bad weather conditions.
Authorities hope details of the cause of the crash will be determined when the flight data recorders are located.
The pilot had asked for permission to gain a higher altitude from air traffic controllers due to the severe weather on Sunday evening. But contact was lost with the aircraft by the time permission was granted.