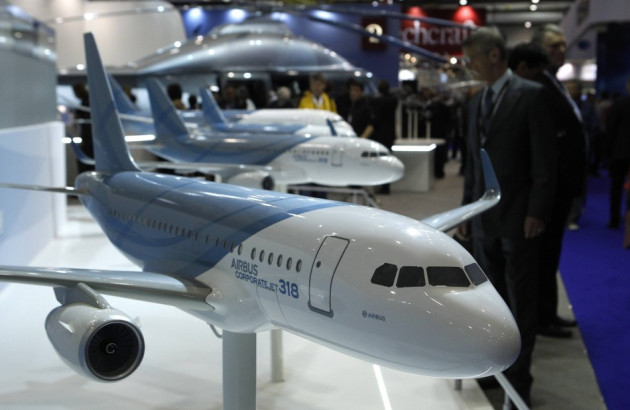 European aviation giant Airbus is set to test-fly its A350 XWB (extra-wide-body) aircraft model for the first time as the company looks to project the new model as a strong competitor to US rival Boeing's troubled 787 Dreamliner in the lucrative long-haul market.
The aircraft is expected to take to the skies at about 7 am France time, starting a 12-month testing programme before entering commercial service. The plane will have on board six people - two test pilots from France and Britain, a flight engineer and three other engineers at the back.
Like Boeing's 787 Dreamliner, the aircraft is made with carbon-fibre composite materials to reduce the plane's weight and save fuel. Airbus claims that the model is more environment-friendly and its operating costs are 25% lower than other aircraft.
Airbus announced the A350 programme in 2004 with an estimated development cost of €11bn and the manufacturing of the model began in 2010. The company has so far received 613 orders for the aircraft, most of them from the Middle-East airlines. Qatar Airways is the biggest customer so far with an order for 80 aircraft. Emirates and Singapore Airlines have ordered 70 each and Cathay Pacific 46.
Airbus plans to deliver its first A350 at the end of 2014.
The model has three variants - the 250-seater A350-800 with a price tag of $254.3m, the 300-seater A350-900 costing $287.7m and the 350-seater A350-1000 with a price of $332.1m. A test version of the A350-900 dubbed MSN001 is flying on Friday.
With the new model, Airbus intends to compete with Boeing in the long-range market, after beating the US rival in the medium-haul segment. In the long-haul market, Boeing still dominates with its 777 and Dreamliner, despite the latter's recent technical issues.
In February, Airbus said it would use alternatives to lithium-ion batteries for its A350 jets after Boeing's 787s ran into battery troubles that resulted in the grounding of the entire fleet across the globe for almost four months. The aircraft is powered by Rolls Royce XWB engines.