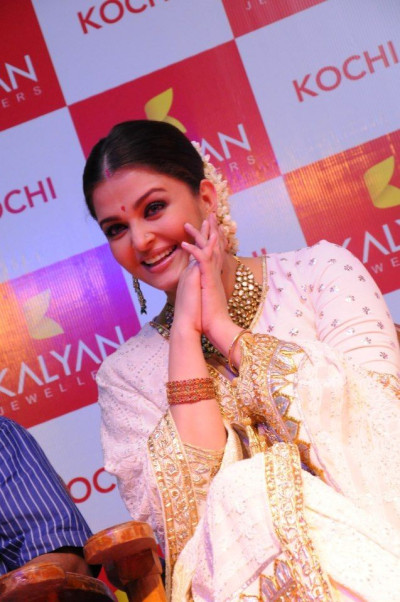 Glamorous Bollywood actress Aishwarya Rai Bachchan turned heads at a launch event for an Indian jewellery brand, showing off an enviable post-pregnancy figure. The mother of one was announced as the ambassador for Kalyan Jewellers, one of the largest jewellery chains in India, earlier this year and turned out a stunning photo shoot for an advertising campaign which revealed none of the weight issues that dogged the 38 year old former Miss World in recent times.
The actress, who is married to another Bollywood star in Abhishek Bachchan, inaugurated the brand's newest showroom, located in the south Indian port city of Cochin.
Aishwarya suited her wardrobe to the occasion, wearing a completely traditional ensemble - a cream-coloured lehenga (a north Indian outfit comprising a skirt and a blouse) by her favourite designer - the duo of Abu Jani and Sandeep Khosla. The outfit, adorned with gold thread work, reflected the primary colour combination of the state of Kerala, where Cochin is located.
Incidentally, the actress wore another creation by the same design duo when she appeared at the 65th Cannes International Film Festival in May this year. On that occasion, she wore a six-yard ivory and gold-coloured sari (another traditional Indian outfit, similar to a wrap) paired with a quarter-sleeve blouse. The outfit was designed to put to rest wagging tongues criticising the actress for not having shed her post-pregnancy weight fast enough, compared to others in her profession.
Meanwhile, for the store launch, Aishwarya chose a piece of exquisitely crafted Polki jewellery from Kalyan Jewellers and styled her hair in to a single braid, at the back, with tresses parted symmetrically from the middle. She completed the all-traditional look with a little vermillion on the front of her forehead, along the parting of the hair, which is usually worn by married Indian women. The final touch was a small garland of jasmine flowers in her hair.
Aishwarya gave birth to daughter Aaradhya in November last year.
Click Start to check out a slideshow featuring the latest photographs of Aishwarya Rai Bachchan