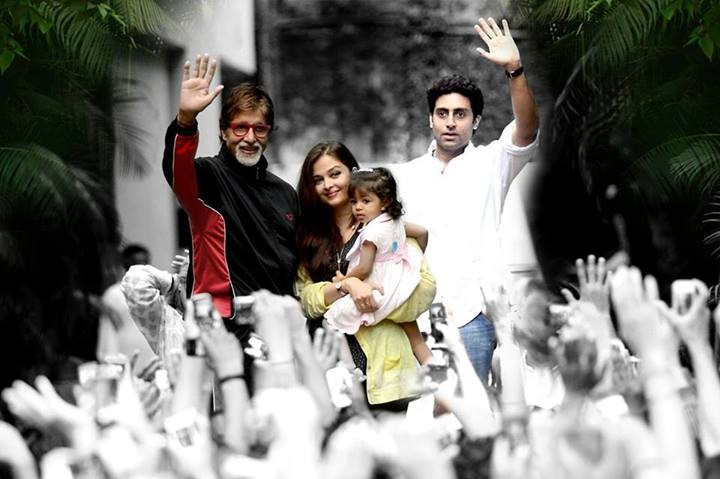 Indian actress Aishwarya Rai Bachchan gave fans a pleasant surprise when she appeared with father-in-law and legendary actor Amitabh Bachchan on his weekly visit to fans on Sunday.
Also joining Rai was husband Abhishek Bachchan and baby daughter Aaradhya Bachchan who looked rather bewildered by the sight of thousands of fans gathered outside their family home, waving at one of the most popular celebrity families in the country.
From last 31 years, except for the times when he has been unwell or out of the town, Amitabh Bachchan has been meeting his fans regularly outside his mansion Jalsa in Mumbai.
"Every Sunday from 1982 of my accident in 'Coolie' to this day nonstop, the crowds and fans and well-wishers are here," Bachchan had once tweeted.
On 30 June, Sunday, the fans were taken by surprise when Bachchan was joined by his family, except for his wife Jaya Bachchan, to let the fans catch a glimpse of their favorite stars.
Bachchan and son actor Abhishek were seen waving at the crowd while a gorgeous Rai held Aaradhya in her arms.
"The Sunday well wishers had a bit of a surprise today ... the little one came out too ..," Bachchan wrote as he posted one of the pictures of the unusual moment on Facebook.
"More crowds for the Sunday meet and a more bewildered Aaradhya .. !" he wrote along with another picture.
Rai returned to India last week after a tight schedule and work commitments kept her travelling around the world.
Starting from TOIFA awards in Vancouver to a recent ad shoot in Dubai, Bachchan had been on her toes from last few months. The green-eyed beauty was recently spotted looking absolutely stunning in a black and white trim Y-dress relaxing between the shoots.
However, despite her busy schedule, the 39-year-old is known to be a doting mother for her daughter. Aaradhya, who was born in 2011 is known to travel along with her mother for most of her trips. Though Aaradhya has been spotted quite a few times with her parents in certain recent occasions recently, this is the first time she has been seen facing such big crowd of fans.