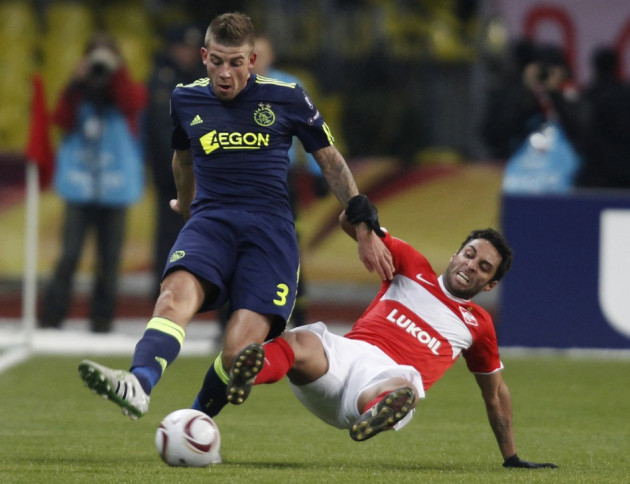 Liverpool target Toby Alderweireld has made it clear that he is not overly concerned about moving to a club without Champions League football as he considers leaving Ajax this summer.
The Belgium international has just one year remaining on his contract with Ajax and is believed to be considering leaving the Dutch champions in order to fulfil a new challenge.
Bayer Leverkusen pulled out of the running to sign the centre back earlier this summer, seemingly paving the way for Liverpool to finally submit an offer for Alderweireld.
However, it was Norwich City that had an offer accepted, only for Aderweireld to reject a move to Carrow Road. Once again it seemed clear for Liverpool to make a bid but there have been none forthcoming despite Brendan Rodgers looking for a long term replacement for Jamie Carragher.
Should they finally decide to make an official offer then it seems the 24 year old may well be interested in joining after making it clear that Champions League football is not a deal breaker.
"I am looking for a good club that play attacking football and that suits my game," Alderweireld told NUsport."It would be nice if they are in the Champions League, but it is not a requirement. I don't want to play a lower standard of football in any case."
Alderweireld has enjoyed great success at Ajax, winning three league titles and adding the Dutch Super Cup to his list of honours on Saturday as the club defeated AZ Alkmaar 3-2 after extra-time.
With the Eredevisie underway in less than a week the talented centre-back has admitted that he is remaining focused on helping the club and that he is not distracted by talk of a move.
He added: "I am now 100 per cent focused on Ajax. My head and my heart are here."
Liverpool have already signed one centre-back in Kolo Toure but there is a feeling another defender is needed as Rodgers was unhappy with the performances of Martin Skrtel and Sebastian Coates last season.