AK-47s inside pool heaters: Brazil police seize 60 assault rifles hidden in Rio airport shipment
Police estimate the guns would have been sold for up to $1.5m.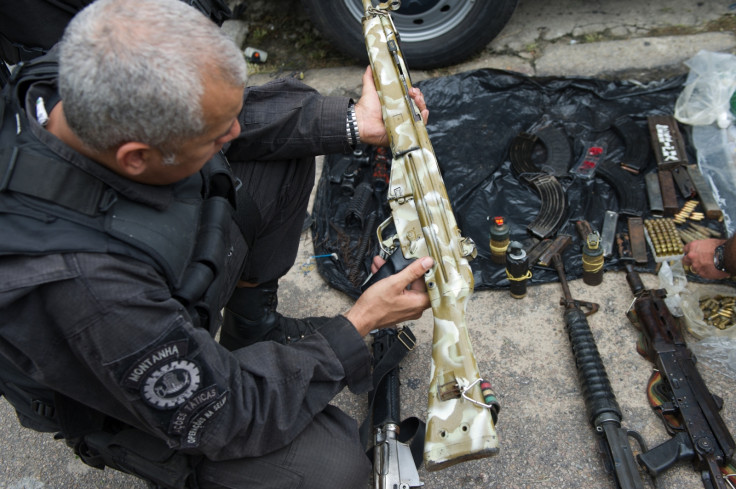 In one of the largest seizures of weapons in Brazilian history, the police on Thursday morning (1 June) confiscated 60 assault rifles which were being smuggled from Miami in a cargo of swimming pool heaters. Four people in connection with the case have been arrested so far.
The weapons, which were found at the cargo terminal at Rio de Janeiro's Galeao International Airport by the Specialized Police in Arms, Ammunition and Explosives and the Police Department of Theft and Burglary of Loads, include 45 AK-47 guns, 14 AR15's and one G3 rifle. All these are heavy calibre military weapons.
An X-ray image of the wrapped guns hidden inside the containers of the pool heating system was released by the authorities.
Rio's civil police estimate that the guns would have been sold for $1.5m (£1.1m) in the Brazilian market.
According to a Globo newspaper report, detectives are investigating an exporter in Miami.
Police chief Carlos Leba and Rio's security secretary, Roberto Sá, held a press conference late on Thursday about the seizure.
According to Sá, around 250 rifles were seized in the last 150 days in Rio de Janeiro. "Today we have 60 rifles, but we are not sure if they will become more. I thank the police, you are the pride of this institution, despite this serious crisis."
Security forces in Brazil have been struggling to stop the powerful automatic weapons falling into the hands of drugs gangs and militia groups. These gangs control poorer areas of major Brazilian cities.
The operation for such seizure of guns began in 2015 in Niterói and involved telephone interceptions.
© Copyright IBTimes 2023. All rights reserved.