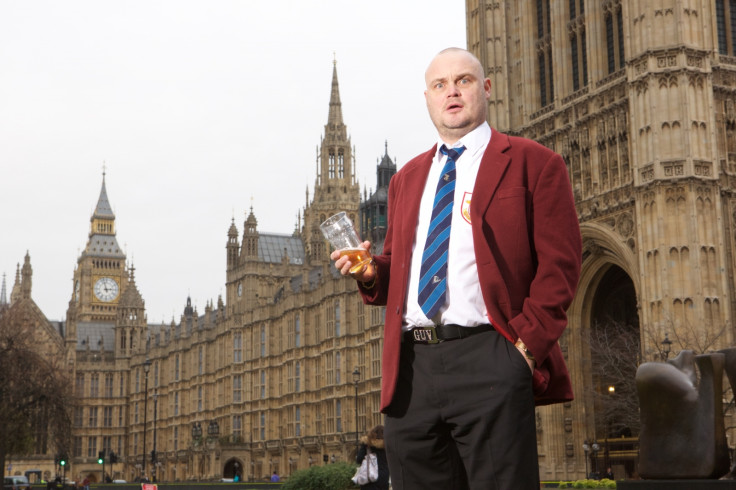 Al Murray, aka The Pub Landlord or simply 'The Guv', took time out of his busy schedule to map out his political agenda as he prepares for his 2015 election battle with Nigel Farage.
Here the FKUP leader talks about booze, Balls... and his bizarre love for Vladimir Putin.
What is the Guv's single biggest hate about modern politics?
The simple truth is the decent, honest, hard-working, normal, reasonable, sensible, down-to-earth, rational, calm, hard-working, law-abiding, reasonable, tax-paying, normal, sensible people of this country, the law abiding people of the UK who don't want to pay their speeding fines – regardless of how fast we may have been going, on a mobile phone, eating a burger, reading the paper - have been ignored for too long.
What is it about Farage and Ukip that particularly irks the Pub Landlord?
Do we really need another centre-left party? No. It's all so wishy-washy. That's why I promise to fight Germany if they're up for it.
If you could have a pint down the boozer with one of Britain's 'big three' political leaders, who would it be?
One of the greatest things about having a drink that is all too often overlooked is the sweet solace and calm it can offer the drinker. And if there is one party leader who needs that sweet solace and calm, it is Poor Nick Clegg. Though I'm not sure any amount of booze could soothe his troubled soul.
Which foreign leader do you most admire, and why?
Well, the thing is Vladimir Putin is doing a great job of getting stuff done, and with his shirt off. None of the other world leaders seem to have taken up Vlad's challenge. He might be invading far off countries of which we know little, but he's setting a new sartorial standard.
Putin also shows leadership, the kind of leadership we admire in FUKP – follow me boys, what's the worst that can happen? That's FUKP all over.
Which MP would you really, really like to have a row with if you were elected to the Commons?
Ed Balls. He doesn't know whether to work his calculator with his arse or his elbow. You wouldn't trust him with any numbers, not even changing the sell-by dates on the peanuts
Don't you think people are a bit sick of seeing politicians in pubs now?
In a word: yes. But the thing to remember about the public house is it one place where all men and women are created equal: whether you are Prince or pauper, old and bold, young, dumb and full of rum, you are welcome in the British pub. Except Mandelson. He's barred.
If you are actually elected, what will be the first thing you will do as an MP?
Well you must know the old saying: with great power comes a great expense account.
There's a lot of talk about the TV debates at the moment and the Greens not being included. Do you think you should be included in the debates?
Of course. The Greens should be included so that we can listen to Ed Miliband – the king of the bacon sandwich – lay into the Greens' proposal to turn the whole of the UK vegetarian. I should be there because I am offering the only true alternative to the alternatives. And none of these muppets have had a game show on Dave so they won't know which camera to look at.
What sort of people do you think the Guv represents?
The last sane people left on the planet, that's who.
Would you consider a downing contest with Nigel Farage as a way to prove yourself against him?
Of course, but it would wrong to humiliate the man. In my day I could shift a pint in under one second. He's no Bob Hawke (that's a reference for your much older readers).
Finally, if you are elected, will you try and change and overhaul the UK's drinking landscape?
I would introduce 25 hour opening and ban alcopops. It's an essential rite of passage that booze when you are a teenager is disgusting, that way you treat it with the respect it deserves.