Alabama chief justice may be removed from office over trying to block gay marriages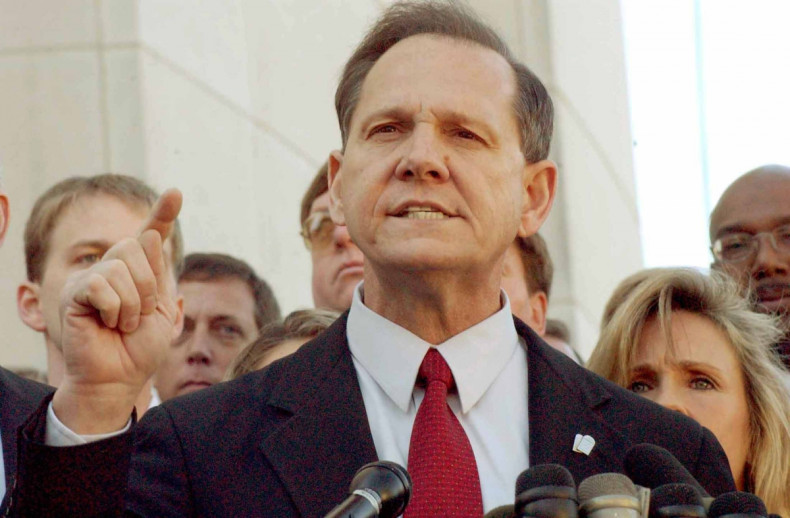 Alabama chief justice Roy Moore has been suspended indefinitely following the Judicial Inquiry Commission filing a formal complaint against him after he "flagrantly disregarded and abused his authority" by trying to prevent gay marriages in the state.
The US Supreme Court legalised same-sex marriages across the country but the justice ignored the latest ruling and compelled probate judges to refuse applications for marriage licences by same-sex couples according to an administrative order he sent out on 6 January.
After the complaint against him was filed on 6 May, Moore was suspended and will now face a potential hearing before the state's Court of the Judiciary. If the final ruling finds him guilty, the judge could face removal from office.
"By issuing his unilateral order of January 6, 2016, Chief Justice Moore flagrantly disregarded a fundamental constitutional right guaranteed in all states as declared by the United States Court in Obergefell," the Judicial Inquiry Commission wrote in the charges.
The 69-year-old said that the Alabama judicial oversight body had no authority to file the charges. He pointed out that the commission has "chosen to listen to people like Ambrosia Starling, a professed transvestite, and other gay, lesbian and bisexual individuals, as well as organizations which support their agenda."
During a press conference on the matter, the judge explained that there is no legally acceptable proof of him having given out the orders to prevent same-sex marriages. "This is about legalism," he said. "There is nothing in writing that you will find that I told anybody to disobey a federal court order."
This is not the first time the chief justice is facing an ouster. In 2003, Moore was removed from the same position after refusing to obey a federal court order demanding he remove a monument of the Ten Commandments that he had installed in the state judicial building. Nine years later, in 2012, he was elected to the same position again.
Southern Poverty Law Center has filed a number of complaints against Moore and its president, Richard Cohen said that the justice "has disgraced his office for far too long".
"For the good of the state he should be kicked out of office," he added.