Alan Hansen: Bolton's Future Irrelevant in Wake of Fabrice Muamba Collapse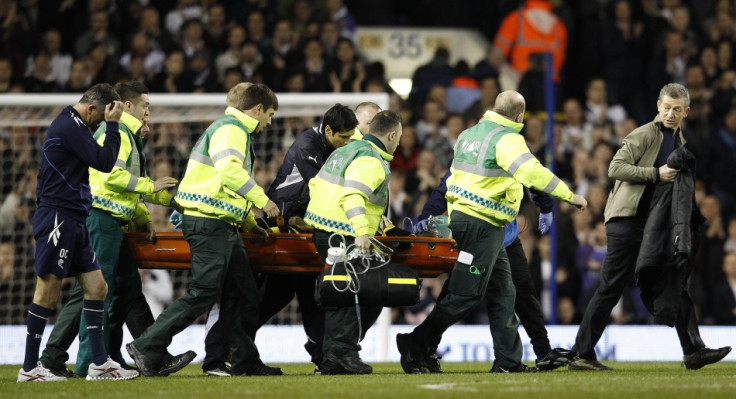 Liverpool legend Alan Hansen believes Fabrice Muamba's Bolton Wanderers team-mates will struggle to focus on anything that involves playing football after the midfielder suffered a cardiac arrest during Saturday's FA Cup tie at Tottenham.
Muamba, 23, was left critically ill after collapsing during the quarter-final match at White Hart Lane and remains in intensive care at the London Chest Hospital's heart attack centre.
And former Liverpool defender Hansen has cautioned that the "worry and the whole trauma" of what happened to Muamba will displace thoughts of Bolton's fight against relegation.
"What happened to Muamba at White Hart Lane simply should not happen to a 23-year-old athlete on a football pitch. Nobody can be prepared for that and your thoughts can only go out to the boy's family and hope that he makes a full recovery," Hansen told the Telegraph.
"But right now, there will be a sense throughout the club that football doesn't really matter.
"And with that as it is, how can the players and manager Owen Coyle be expected to feel any different when they are due to play Blackburn Rovers in a crucial game for the club on Saturday?
"Bolton are fighting to avoid relegation and it is a game that could be pivotal in their battle to stay up, but the team talk that Coyle will have to give is simply impossible to deliver.
"How can he motivate his players for that game now? How can he tell them to put everything out of their minds and focus on getting three points that could safeguard the club's Premier League future?"
Bolton's Premier League game at Aston Villa on Tuesday has been postponed and Bolton manager Owen Coyle expressed his thanks for the messages of support the club has received.
"From our end, and on behalf of the family, we certainly want to say thanks to everybody," Coyle is quoted on the BBC.
"We know it's such a difficult time for everybody involved, our thoughts are with Fabrice's family."
Medical staff spent six minutes trying to resuscitate the former England Under-21 international on the pitch after he fell to the ground with no other players around him.
The match was abandoned after 41 minutes with the score at 1-1.
Hansen, who witnessed first-hand the stadium disasters at Heysel and Hillsborough while at Liverpool, said nothing could compare with the distress Bolton's players are now enduring.
"When Fabrice Muamba's Bolton team-mates report for training on Monday morning, it will be impossible for them to focus on anything that involves playing football or preparing for their next game," said Hansen.
"How long that feeling will last will be different for each individual player, but it is something that could take weeks, months and perhaps even years for some of them to come to terms with.
"The Bolton dressing room will be a lonely place and there will be no thoughts of 'let's do this for Fabrice' at this stage.
"Some players will want to get back on the pitch, others will argue against that and some will just wish for the season to be over so they can get away from this nightmare."
The former Liverpool captain added: "The only hope they can cling to is that their team-mate makes a strong recovery and the uplift they would get from that will ensure that everybody will want to go back out there again.
"But it is too raw and sensitive at the moment for those thoughts to be considered.
Football will be the last thing on the players' minds and nobody can say when that will change."
© Copyright IBTimes 2023. All rights reserved.