Alan Hansen has argued that Manchester United's acquisition of Robin van Persie has shown just how much more hungry the club are to win the title than Manchester City, following the striker's decisive intervention in a derby that could prove pivotal in the title race.
The Red Devils came out victors over their bitter rivals in the dying minutes of the derby yesterday, all but erasing their embarrassing 6-1 thrashing this time last year as van Persie curled in a free kick in injury time to settle the score at 3-2.
The win was particularly dramatic as van Persie chose to go to United over City in the summer, frustrating Roberto Mancini and delighting Sir Alex Ferguson as the Scot aims to close the goal difference gap with the side that took the title off him last season.
And Hansen believes that van Persie's presence in a United shirt on Sunday showed why the side deserve to be top of the table right now.
"United have grown stronger with the addition of a £22 million striker, but City have not progressed and that is why United are now six points clear at the top of the league," he told the Telegraph. "Van Persie's addition has clearly made a difference, though, and it showed against City.
"When you look at the starting teams on Sunday, there were two players making their derby debuts.
"One was Van Persie, the other was City defender Matija Nastasic and that says a lot about the current position of the two clubs."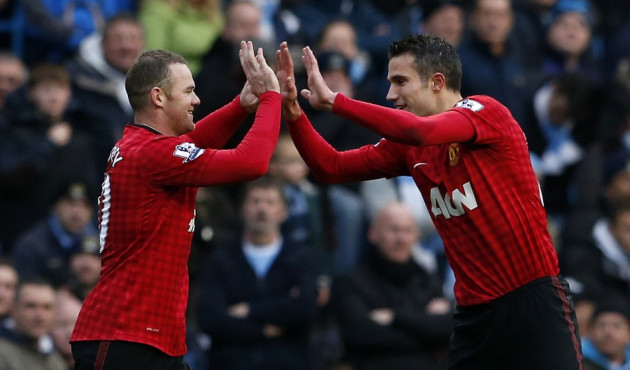 Another star of the day for United was Wayne Rooney, who has had a lull in form this season but came back to his best to score a brace and give his side a 2-0 half-time lead.
The goals were just as important as van Persie's winning strike, and Hansen believes that when Rooney is at his best United are almost unstoppable.
"In terms of which player United need most, I would say it is Rooney every time because he offers as much at right back as he does at right wing and as a centre forward," he said. "When you are sat in the dressing-room and your best player is also the hardest worker, it lifts everybody and gives something extra to everybody else.
"It is a strange situation with Rooney, though, because regardless of how good a player he is, he keeps on having to answer questions about his form, his contribution and other aspects of his game.
"Maybe people just look at him from an England perspective and put his United performances to one side.
"But I have never been one of those who believed that Rooney was on the wane or that he was no longer the most important player at Old Trafford.
"If you offered me all of the top players in the Premier League, all of the top foreign imports, I would still put Rooney ahead of them."