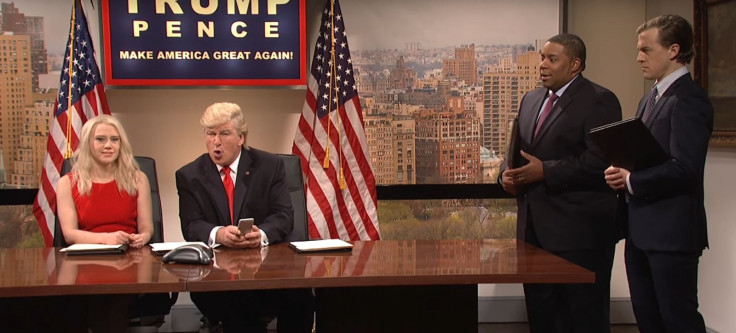 Actor Alec Baldwin has a proposition for President-elect Donald Trump: release your tax returns and I will stop impersonating you on Saturday Night Live. Baldwin's offer comes after Trump criticised the show for mocking him and his tweeting habits.
"Just tried watching Saturday Night Live - unwatchable! Totally biased, not funny and the Baldwin impersonation just can't get any worse. Sad", the president-elect tweeted. In response, Baldwin issued a short offer that Trump is bound to ignore.
"…@realDonaldTrump Release your tax returns and I'll stop. Ha", the Trump impersonator tweeted back.
The president-elect broke with election tradition and refused to release his tax returns, claiming that he is under audit and cannot release them. While Trump's tax returns were highly sought-after during the election, they would be relatively meaningless now that he has been elected.
Trump has proven to be a comedic goldmine for Baldwin and the NBC sketch-comedy show. Baldwin began impersonating the president-elect during the primary season, appearing alongside fellow SNL cast member Kate McKinnon, who portrayed Hillary Clinton.
Baldwin was not the only person to respond to Trump's post-SNL tweets. Transgender activist Daniella Muscato slammed the president-elect for focusing on the comedy show instead of more serious issues. In a series of tweets that have since gone viral, Muscato labelled Trump as "embarrassing" and urged him to focus on other issues.
"Jesus f*****g Christ Donald Trump. You are the president-elect. Pick your f*****g battles, man. You're embarrassing yourself", Muscato tweeted in response to Trump's tweet. "Baldwin's impression isn't 'sad.' You know what's sad? In seven weeks, you'll be responsible for 330 million lives and you can't think of anything better to do than tweeting about a comedy show."
The president-elect has not responded to either Baldwin's offer or Muscato's criticisms, opting instead to focus on threatening businesses who may look to move out of the US.