A survey conducted by Ipsos Mori has found that public confidence in politicians has reached an all time low.
Politicians, in general, were found to be the least trusted professional group with just 15% expressing confidence in them, while government ministers scored only marginally more trustworthy at 20%.
The joint report by Mumsnet and Ipsos Mori, which used this year's veracity index – an annual survey of public trust in a range of professions – and Mumsnet focus groups, looked at how voters make political choices. The report found a 6% drop in the public's trust in politicians since last year.
The most trusted profession was nurses at 93%, with doctors just behind at 91%.
Public services in general scored highly, with teachers, judges and the police all scoring more than 70%.
Civil servants, at 56%, scored lower than the average man or woman in the street, who scored 65%.
Trade Union officials were considered less trustworthy still, at 43%.
Journalists were deemed particularly untrustworthy at 24%, though that category did not include TV newsreaders, apparently, who were deemed significantly more trustworthy, at 65%.
Interestingly, in the fourth annual survey on women's voting patterns found that female journalists 7% less trustworthy than male journalists.
The survey centred on attitudes around June's referendum on European Union membership and looked to test Michael Gove's theory that the public had "had enough of experts".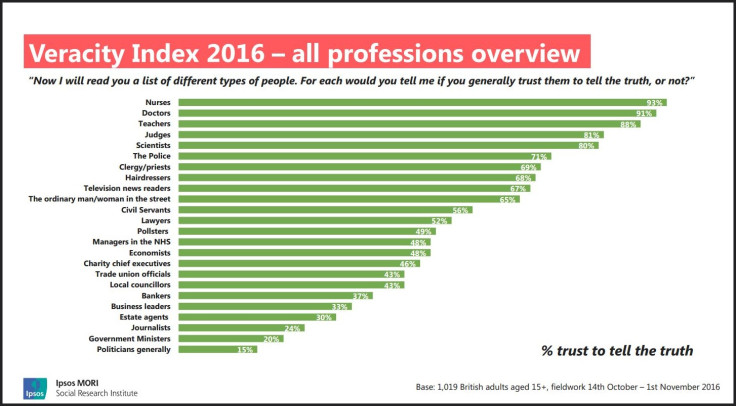 It surveyed focus groups split into "Leave" and "Remain" camps on their views on individual politicians, as well.
While Leave voters were apparently turned off by Boris Johnson because they "didn't believe what he was saying", Nick Clegg was deemed particularly trustworthy by Remain voters.
One said: "I wish we'd heard more from Nick Clegg."
According to the survey results, the most trusted group in terms of issues relating to EU membership were friends and family at 72%, scoring highly in both Leave and Remain camps.W
With regards to experts, 50% of Leave voters were uninterested in the views of academics – the second most highly trusted group – compared to 69% of Remainers.
At the bottom of the table, 11% of respondents rated politicians as trustworthy in terms of informing their vote.