In Syria, the fight for Aleppo – with its rebel infighting, Russian airstrikes and waves of refugees—is the epitome of old news. However, recent days suggest that things might just be changing.
The Great Battle for Aleppo, as some Syrians have termed it, has undoubtedly offered the greatest display of rebel unity for years. An estimated 250,000 civilians have been threatened with regime siege in eastern Aleppo for months, and it was finally closed upon them late last month. Between starvation and indiscriminate barrel bombs, the situation is a humanitarian disaster. On Sunday, the insurgents, ranging from Salafi-Jihadists to secular nationalists, launched an operation to break the siege, all fighting for a common cause, against a common enemy – at least for now.
This coalescing has much to do with the recent disaffiliation of Jabhat Al-Nusra from al-Qaeda. Though it remains to be seen whether or not newly formed Jabhat Fateh al-Sham (JFS) is anything more than a cosmetic change for Al-Qaeda in Syria or a genuine ideological shift, it has already broken down barriers to coordination on the battlefield, leading to even closer coordination with the hardline Ahrar al-Sham.
JFS played a critical role in advancing from south west Aleppo, their use of suicide bombers serving as the coalition's "shock and awe" element, while more than a dozen nationalist Free Syrian Army units battered Assad's forces with US supplied TOW missiles.
Facing a gross manpower shortage and reliant on poorly trained foreign militias under the control of Iran, the regime is stretched on too many fronts. It was for this reason that when desperate radio calls for reinforcements went out on Tuesday afternoon, no response was heard. The willingness and ability to coordinate attacks has lent opposition forces significant momentum. Opposition fronts as distant as Homs and Hama claimed to have sent reinforcements to Aleppo, while messages of solidarity were sent from rebel units as far away as Daraa in the south.
Furthermore, the coalescing of rebel factions provided the assault on regime positions with all important popular support. Children took the streets, setting fire to tires, the smoke from which blinded regime planes and provided Aleppo with something of a homemade No-Fly-Zone. Even as the fighting raged, popular demonstrations were seen just minutes away in besieged Aleppo chanting their support for the fight against Assad.
There is little progress in overthrowing a Baathist dictator only to replace him with Islamo-fascists.
This popular support is something that Syria's moderate opposition must both seize on and take responsibility for. Aleppo has often been described as a bellwether city for Syria's revolution, and an opposition take-over has the potential to galvanise Syria's mainstream opposition. Rebel disunity has helped Assad surpass expectations in terms of survival, a cohesive and galvanised opposition could serve as a real threat to him, and eventually to Islamic State (Isis) territory in Syria too. The danger to be averted now is that this unity is brought about under the banner of a rebranded al-Qaeda.
The coalescing of opposition groups, and the heavy support from Turkey, presents an opportunity to rid Aleppo of the regime. The regime will inevitably counter-attack, though this remains heavily reliant on just how much Iran and Russia are willing to throw at the fight in the coming days. Rebels held out in the face of Putin's offer to provide them with "safe corridors" to leave the city, a move that would likely have seen parallels to the evacuation of Homs in 2014 where a UN backed "truce" resulted in a de facto government victory and Assad reclaiming one the most persistent opposition strongholds in Syria.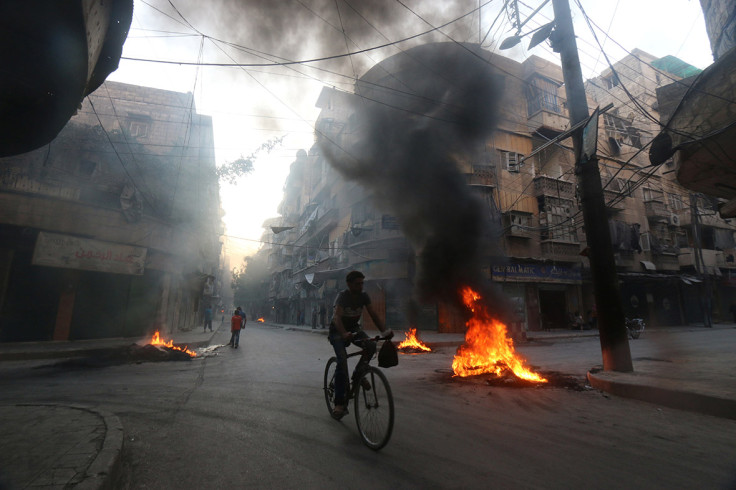 The next challenge, should Aleppo be completely freed from Assad's control, will come in the form of governance. When Idlib was seized in March of last year, it became Syria's only province to be controlled by neither the Assad regime nor Isis (Daesh).
Despite a strong presence from what was then Jabhat Al-Nusra in some areas, space was opened for civil institutions and local governance councils, some of which have even been funded by international aid. As a result, elements of normality started to return, as did displaced residents. It is to be hoped a similar model is adopted for Aleppo, rather than a strict regime of Shariah. There is little progress in overthrowing a Baathist dictator only to replace him with Islamo-fascists.
At its core, and in much of Syria today, there remains a popular revolt against a dictator.
While recent history shows a compromise of largely civil opposition governance is possible and there can be hope for Aleppo, the same history also shows that some of the elements within Aleppo's opposition are just as guilty of war crimes and sectarianism as Bashar al-Assad.
The critical point will be the role they play in liberated parts of Syria, and whether the more mainstream secular and Islamist revolutionaries are able to drown them out, or whether they allow themselves to sleep walk in irrelevance. It is this citizen-led governance that will best allow Aleppo to begin the long process of recovery that it needs after so many years of war.
The absence of IS in the battle for Aleppo is a reminder that this war is about much more than just black flags and beheadings. At its core, and in much of Syria today, there remains a popular revolt against a dictator. Syria's revolution is not over, and glimmers of hope can be found in the battle for Aleppo.
---
Gareth Browne is a freelance journalist covering the Middle East. An Arabic speaker, he tweets at @brownegareth
---