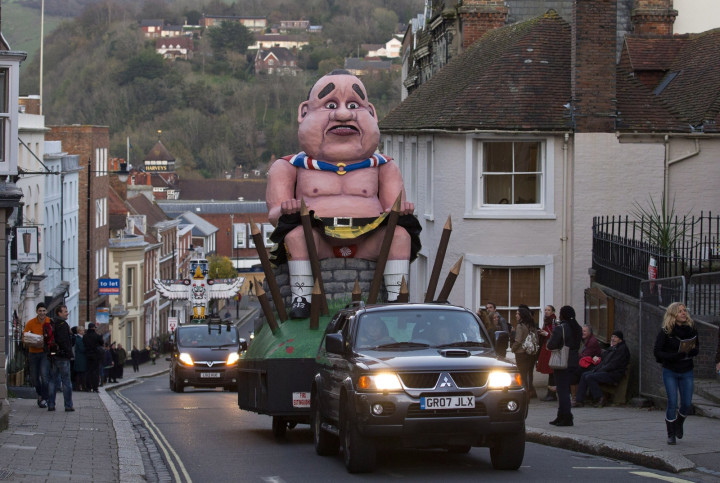 An Alex Salmond effigy was saved from the flames on Bonfire Night by a single complaint made to police about the stunt in Lewes.
Sussex Police stepped in to halt the ceremonial burning after furious critics launched a vitriolic attack against the event on social media.
Waves of web hate rolled in from Scotland. Even Salmond himself stepped in by questioning the judgement of the Waterloo Bonfire Society, which created the effigy.
One angry tweeter questioned what the reaction would be if a likeness of David Cameron was torched. But in fact, an effigy of the prime minister was burned in 2010.
Bonfire night in Lewes is famous for the burning of likenesses of public figures, including Piers Morgan and EU president Jose Manuel Barroso.
A Sussex Police spokesperson said: "We are aware of the portrayal of Scottish First Minister Alex Salmond as an effigy at the 2014 Lewes Bonfire event and acknowledge that concerns have been raised.
"Whilst we accept there is a long tradition of creating effigies of high-profile individuals in politics, sport, the media, etc, a complaint has nevertheless been received and will be investigated."
Confirming the Salmond effigy had been spared from the flames, the Waterloo Bonfire Society said: "It is a tradition which has endured for many years and is intended to portray familiar stories and characters in a light hearted way.
"Clearly the Scottish Referendum has been a big story in the news recently and Alex Salmond is a high profile figure.
"We can assure that we have no wish or intention to offend and have never found ourselves in a position where we have done so in the past."
There was criticism in Scotland of the outrage at the effigy, with a Hearld Scotland columnist describing it as "petulant and hypocritical."