Arsenal manager Arsene Wenger is concerned that his gamble to rely on injury prone midfielder Abou Daiby could be costly come the end of the season.
Wenger allowed midfielder Alex Song to leave Arsenal in order to join Barcelona in the summer as he believed he had enough strength in depth to cope with the loss of the Cameroon international.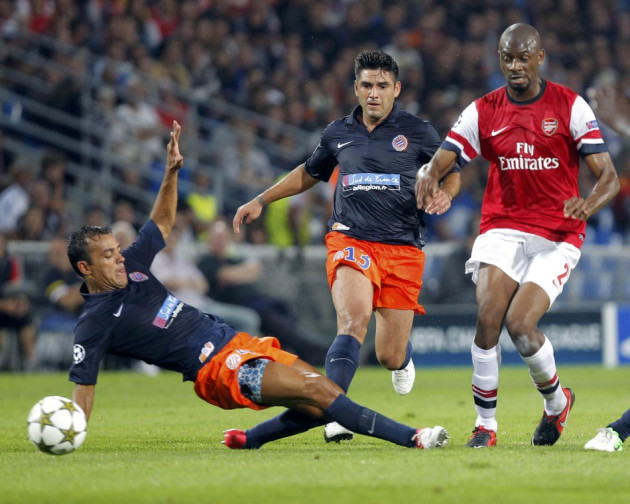 Extra emphasis was placed on injury-prone midfielder Diaby, and the gamble appeared to be justified as the Frenchman excelled in the 2-0 victory over Liverpool at Anfield.
However, he limped off in the 2-1 defeat to Chelsea at the weekend after picking up a thigh injury after just 18 minutes and is now expected to be out of action for around three weeks.
This comes on the back of Diaby being ruled out of the Southampton match after picking up an injury with France and Wenger admits he may come to regret the decision come the end of the campaign.
"Diaby's injury record is not good," Wenger told The Mirror. "I was concerned about him, of course. It was a gamble but I was calculating as well that Jack Wilshere was coming back.
"Francis Coquelin is here but was sick and Emmanuel Frimpong is back, while Tomas Rosicky is coming back. We have many midfield players. We don't have many physical players.
"But Mikel Arteta has shown he can be a great defensive midfield player. We'll see overall if it was a good or bad decision at the end of the season."
Wenger does have a plethora of midfielders to choose from, but there are very few at Arsenal that can perform the role of Song. His ability to both break up, and dictate, the play made him one of the star performers last season.
Arsenal appeared to struggle without his presence defensively as well, conceding two goals from set pieces as Arteta admitted that they desperately need Diaby to be fit.
"His height is really important on those set-pieces because we haven't got enough tall people in the squad at the moment," the former Everton midfielder revealed to The Mirror.
"We were very disappointed. The fact that we conceded two goals from two set-pieces is even more frustrating because I cannot remember any saves from our goalkeeper in the game."