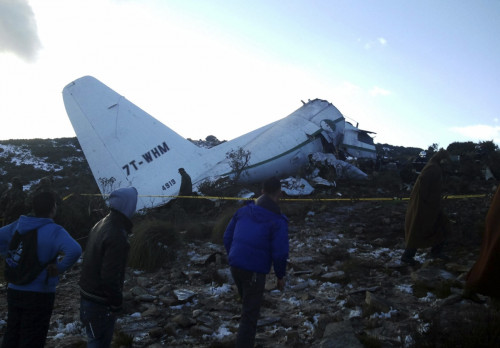 An Algerian military plane has crashed killing 77 people but a lone soldier is said to have survived with head injuries.
The only survivor was initially treated in a military hospital in the northern African country's rugged eastern region, following which he was flown to capital Algiers.
The military aircraft, US-made Hercules C-130, crashed into a mountain in Oum al-Bouaghi province, reportedly due to bad weather. The Algerian Air Force-operated military plane was travelling from the southern city of Tamanrasset to Constantine, Algeria's main city in the eastern region.
Algerian officials have confirmed recovering 77 bodies - it was earlier feared more than 100 people were killed.
Women and children who are thought to be the relatives of military officials are also among the dead. Military planes in Algeria sometimes take civilians also onboard.
"The adverse weather conditions and storm with snowfall prevailing in the region are the cause of the crash," said an official statement from the defence ministry in Algeria.
"The operation of search and rescue continues and further details will be provided as soon as new information becomes available."
The defence ministry has also initiated a probe into the mishap.
"The plane crashed into a mountain and exploded. Several bodies were burnt to ashes and could not be identified," an official involved in the operation told Reuters.
President Abdelaziz Bouteflika has declared three days of mourning in Algeria.
This is the worst aircraft crash in Algeria since the 2003 accident which killed 102 people when the civilian jet crashed during a takeoff from Tamanrasset airport.