Swiss artist Hans Ruedi Giger, better known as HR Giger, has died at the age of 74 from injuries sustained in a fall.
The celebrated artist was best known for inspiring and working on the designs of Sir Ridley Scott's sci-fi horror masterpiece Alien, for which he won a Visual Effects Oscar in 1980.
Swiss television station SRF broke the news, reporting that he died in hospital yesterday afternoon (Monday 12 May).
Born in 1940, the son of a chemist moved to Zurich aged 22 to study architecture and industrial design, all the while maintaining a keen interest in art. After graduating in 1966 he worked briefly as an interior designer but soon turned exclusively to art.
Inspired by HP Lovecraft, his nightmarish compendium of work Necronomicon inspired numerous aspects of Scott's Alien. One piece in particular - Necronom IV - inspired the titular alien killer which would go on to be called a xenomorph.
Speaking to magazine Starlog in 1979, Ridley Scott told them about seeing Giger's work for the first time: "I took one look at it and I've never been so sure of anything in my life," he said.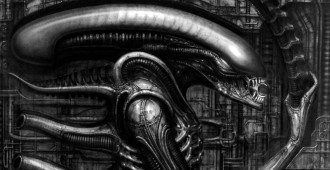 On his alien design, Giger said: "In the first design for the alien, he had big black eyes. But somebody said he looked too much like a Hell's Angel, all in black with the black goggles. And then I thought it would be even more frightening if there are no eyes!
"We made him blind! Then when the camera comes close, you see only the holes of the skull. Now that's really frightening. Because, you see, even without eyes he always knows exactly where his victims are, and he attacks directly, suddenly, unerringly. Like a striking snake. "
Giger also designed the derelict ship, the alien eggs and face-huggers found within, the infant xenomorph famous for bursting from John Hurt's chest and the Space Jockey - which became the subject of Scott's Alien prequel Prometheus in 2012.
Giger's work in film continued but never reached the same heights. He worked on Poltergeist II in 1986, Alien 3 in 1992 and Species in 1995.
In 1998 Giger opened his own museum in central Switzerland. Insider are many of his own works - paintings, sculptures and film designs - as well as his own art collection, which includes the work of Salvador Dali.