Alistair Brownlee has become the first athlete to retain an Olympic triathlon title in a gruelling triumph along a tough Fort Copacabana course on Thursday (18 August). The remarkably durable Yorkshireman became Team GB's 20th gold medal winner of the Rio Games, while younger brother Jonny improved on his bronze medal showing at London 2012 to claim silver.
Both Brownlees enjoyed a positive start, keeping pace with initial front-runners Richard Varga and Igor Polyanskiy during the first 1.5km open-water swim to lie fourth and sixth respectively at the start of stage two: a gruelling 40km, eight-lap cycle ride that featured a brutal climb and technical descent.
The wily siblings then looked to immediately hit the front and splinter the leading group while causing additional problems for key Spanish rivals Mario Mola and Fernando Alarza, both of whom lagged behind after a disappointing showing in the water. Compatriot Javier Gomez, the five-time ITU world champion who claimed a silver medal four years ago, withdrew from the Olympics in July after undergoing surgery on a displaced fracture in his left elbow suffered during a relatively minor bike accident in training.
The gap between the leaders and the chasing pack continued to widen on two wheels and Britain's other competitor, Gordon Benson, dropped out after being involved in a four-bike crash. Beginning the 10km run, proceedings quickly developed into an all-Brownlee clash for gold as they eased clear of nearest challenger Vincent Luis.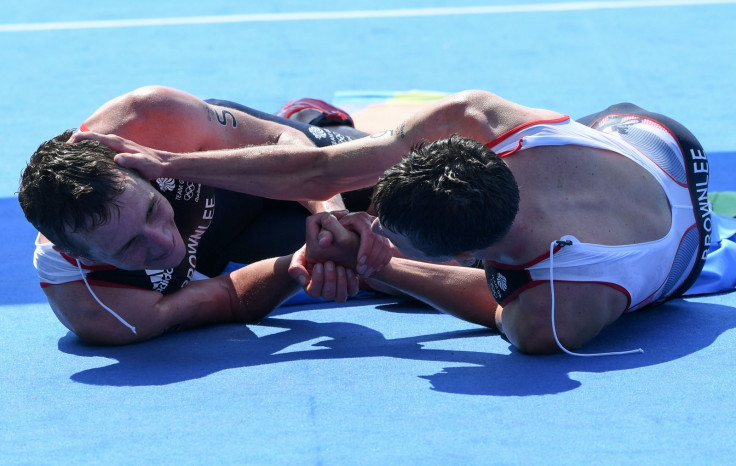 Jonny initially set the pace, but big brother Alistair, who underwent lateral ligament reconstruction surgery in his left ankle last summer, bided his time nicely past the halfway mark before emphatically racing clear and never looking back. He eventually won in a time of 1:45:01, with Jonny finishing 0.06 seconds behind and South Africa's Henri Schoeman crossing the line in third.
Speaking to the BBC after his historic gold, Alistair said: "Every day has been so hard. I have woken up in pain every day it has been so hard. The swim wasn't that quick but we knew the first two laps on the bike would be crucial. The last few weeks we have been training to commit and boy we did.
"As soon as we got to half way I knew we were going to get two medals and it was just a run for it. I was pretty confident we would get first and second but I didn't know which way round it would be. I just had the edge on Jonny but he has killed me in training every day and I have been going through hell every day."