History has known many remarkable French women, many of whom became symbols of women's liberation and were even labelled "mothers" of feminism. Fifty years ago French women could not vote as they did not have the right to. Yet today several are leading ministries. Even if the country is still ruled by men, women are now part of the governmental mechanisms of modern France.
However, it is not these female ministers and deputies that are the global custodians of French women's power; it is not them who have dominated international coverage over the past few years. The most famous French woman on the planet today is not a new Simone de Beauvoir, but more a new Napoleon Bonaparte wearing a skirt and with blond hair: Marine Le Pen.
The results of last Sunday's first round of local elections in France horrified many. Front National (FN) captured a record 25% of the vote, allowing it to run for the second stage in many electoral departments on 29 March. Whether this is the revenge of the "abandoned" French working class; the reflection of a dangerous general veer to right-wing policies in Europe; or even the high abstention rate at the elections (50% of citizens did not vote), there is something specific about Front National's rising popularity.
The results of the elections show that, although before 2012 a majority of FN supporters were men, women are now also giving their votes to Le Pen's political brand.
It is Marine herself whom turned the fringe party - born in 1972 of an eclectic coalition of collaborationists, neofascists, anti-Zionists and opponents of decolonisation - into a more attractive political group to a growing number of French citizens, including women. The fact that a woman now leads a party which has been notorious for being macho, sexist and violent is in itself a revolution for many.
'Marine cultivates a more attractive persona than Jean Marie Le Pen, who alienated the chattering classes with his violent and sexist speeches.'
Born in 1968, Le Pen, a twice-divorced working mother, "looks" feminist to the world without having to do much to prove it. She is seen as a strong woman in power who does better than men, or at least better than her own father. She cultivates a more attractive persona than Jean Marie Le Pen, who alienated the chattering classes with his violent and sexist speeches.
He liked to evoke "the Islamic world [that] slowly penetrates Europe", and is famous for saying "these immigrants tomorrow will sleep with your wife and your daughter". These words used to cause women to bristle with indignation. Marine has to be only mildly non-violent in her speech to sound extremely liberal by comparison.
Nonna Mayer, professor of political science at the IEP in Paris, believes that the raising popularity of FN amongst women "is particular to the economic crisis. Before, it was amongst the workers, a male-dominated world, the most exposed to unemployment, that Le Pen made his gains. Today his daughter is also progressing in a... predominantly female, supermarket cashier-type bracket, rebelling against their working conditions. Scores there reached 30% in the 2012 presidential election."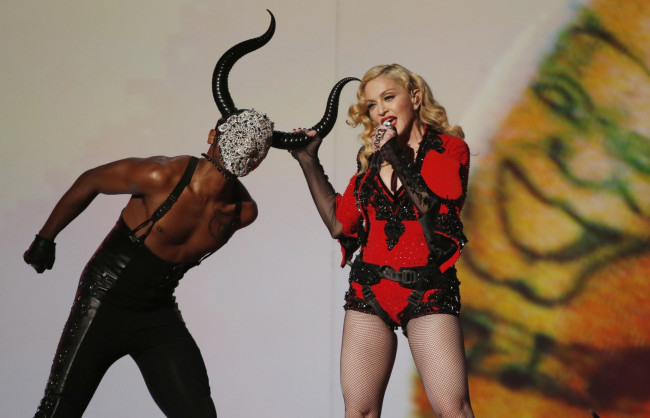 Marine Le Pen has hardly tried to change the communication strategy of Front National, but few realise that the programme of the party has remained the same and not really changed since the time of her father. The political program of the party does not mention gender equality, it is all about the family.
In fact, when their program mentions the position of women, it is all about her vagina, as it is to be expected from a true sexist and macho party. As a matter of fact, the party that called abortion "anti-French genocide" and compared it to Auschwitz's crematorium, has not changed its views under the rule of a woman.
The personality of DSK is not that interesting to us but his trial brings a focus for another mission. It is an opportunity to demand the passage of the nearly forgotten bill about the criminalisation of prostitutes' clients.
Inna on Femen's protest at the trial of Dominique Strauss-Khan. Read the full piece here.
In France, abortion is partly refunded by the state – that is, by taxpayer's money – as part of the social welfare system the French are so proud of. Marine Le Pen, her opponents say, cannot wait to tear this system down. Furthermore, she strongly opposes the criminalisation of clients of prostitutes calling it a stupid reform, as prostitution "is the oldest profession on earth".
If Front National is taking care of women's rights, be sure it is about the rights of women as mothers, no more. In a recent tweeted comment, Marine's niece, Marion Maréchal Le Pen, a low-quality copy of her aunt, reacted to the cancellation of the mandatory seven-day "waiting period" before abortion by saying: "When you buy a microwave on the internet, you have 7 days to retract. It's not required anymore for abortion".
'Marine Le Pen's brand of female power is in fact an example of female impotence, fed by the ugliest political ideas.'
What makes me feel calm, except for the still-objective weakness of Front National, is that from time to time they fail in their well-polished communication. Jean-Marie still throws out hilarious sexist comments, often mentioning us, FEMEN. And Marine herself often fails in pretending to be interested in women's issues, calling feminists hysterics and declaring that the concept of gender equality is full of contradictions.
It was also amusing to see her comment on one of FEMEN's protests, made by our French branch against FN, when Marine Le Pen opined that Ukrainian feminists should be sent back home. That was just what we needed from her.
It has long been known that feminism is not only for women, and not always by women. A woman that plays the men's game, and follows a male ideology, probably can't do any good for women. Le Pen's brand of female power is in fact an example of female impotence, fed by the ugliest ideas.
Having inherited a party that is representing all the violent forms of machoism, Marine Le Pen is blurring perspective with a well-orchestrated campaign of communication, which effectively convinces the poorly educated electorate with screams of "liberty", "equality", "secularism", "defence of women" hiding under true fascist views about women, immigrants, leftists etc...
This "woman against women" campaign, allied to Marine Le Pen's developed populist skills, could throw France into an abyss, and would bring the country back to its darkest days. It feels so good to know that this is never going to happen.
Bonne chance, Marine, bonne chance!