Paramount Pictures' World War II romantic thriller Allied, starring Marion Cotillard and Brad Pitt opens in UK and US cinemas this week and the film holds a fairly impressive 8/10 rating on IMDb ahead of its release. However, its 62% Rotten Tomatoes score and critic reviews today (21 November), do not seem to be reflecting the same positive reaction to the film.
Cotillard stars as French Resistance fighter Marianne Beausejour in the film, while Pitt plays Canadian intelligence officer, Max Vatan. The pair meet behind enemy lines while Vatan is carrying out a secret mission.
Some time later, the pair reunite, marry and have a child together but soon, Vatan receives orders that he must kill Beausejour as it's feared she is a sleeper spy working for the Germans. Convinced of his wife's innocence, he then sets out to clear her name with dangerous consequences.
So who said what, exactly? Here, we look at what some critics have said...
Den Of Geek: "This isn't a tension-filled tour-de-force, but it is a perfectly enjoyable couple of hours. Don't be expecting what the trailer sold you, that's all."
The Guardian: "Zemeckis is usually known for his zestiness and zippiness; but this is arduous. Screenwriter Steven Knight scripted smart movies such as Locke, Dirty Pretty Things and Eastern Promises, and there are some nice touches, but it resembles an unconvincing and sluggish pastiche of a war movie."
The Telegraph: "Allied, swathed in larger-than-life, luxurious imposture, is the real heart-racing deal.
"There's lots of primo Cotillard in enigmatic close-ups, while the superb screenplay by Knight (who made Tom Hardy talking about concrete fascinating in Locke) finds a clockwork-smart way of delivering maximum satisfaction without landing on either of the endings it tricks you into thinking are the only ones in play."
Variety: "Allied is tense and absorbing, yet the film's climactic act somehow falls short. Zemeckis and company don't make any obvious missteps, but the movie, in trying to reach out and tug on our heartstrings, goes soft regarding what the Marianne we're presented with would choose to do.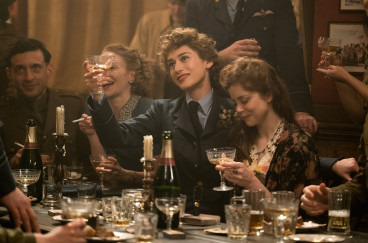 "It could, and should, have gone darker. The result is that Allied inspires most of the old-movie reactions it's going for except one: It never makes you swoon."
Empire: "Zemeckis' old-school romance has its moments and Cotillard gives it her all, but it lacks the zip and chemistry to truly spark."
The Hollywood Reporter: "Sluggish pacing throughout saps most of the tension, but the real issue is the absence of a solid foundation for the central romance. Since the love between Max and Marianne never generates real sparks, the possibility that their alliance is built on duplicity unfolds in frenetic late-action plotting without much emotional investment.
"Cotillard is such a magnetic screen presence that she overcomes the odds on occasion, registering some affecting moments that keep us wondering about her enigmatic character's loyalties. But Pitt has rarely been less interesting."
Little White Lies: "The film, like Pitt's performance, is all surface and no feeling."