The 13th Alternative Miss World competition returned to London this weekend, bringing cross-dressing, latex bodysuits, inflatable animal costumes and illuminated gowns to Shakespeare's Globe theatre on the South Bank.
Sculptor and artist Andrew Logan created the competition in his art studio in Hackney 42 years ago. Logan, presenting in tandem with friend and previous contestant, artist Grayson Perry, appeared on stage after being lowered from the ceiling, a predictably flamboyant act that set the tone for the evening.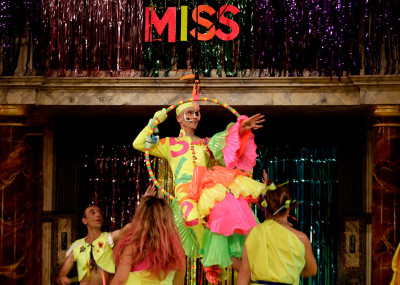 The format of the show stays true to more traditional beauty contests, in which entrants appear initially in daywear, then swimwear and evening wear.
Daywear highlights included Miss Zero+ dressed in a latex bodysuit and emerging on stage in a metallic inflated dress that she detached in various stages, and Miss Pi Paulus emerging in full octopus regalia.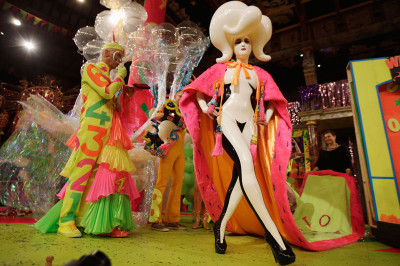 Other notable contestants included the light-show themed Miss Enigma, who wowed crowds despite a few technical hiccups.
"It's not the slickest thing as well, perhaps we're all a bit fed up of the slick world now, you know, it's nice to have a bit of glorious chaos," Perry said.
Miss Zero+ (real name Sasha Forlova) was crowned Alternative Miss World 2014. Having travelled all the way from Russia, she said she was delighted, not only at winning the event, but at being able to perform outside her own country as well.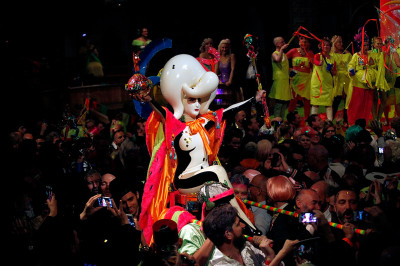 "I performed a lot in Russia, and it's quite difficult for me because there is some kind of misunderstanding from public, from audience, when I perform, and here, there is no misunderstanding at all. So I just feel loved, and it's incredible," she said backstage, after her win.
That feeling, said Logan, is at the heart of what Alternative Miss World is really about. "My work is about joy, it's very simple. My sculptures are about joy, this is a big sculpture, and that's what it is, it's very simple, it's very simple," he said.