Alton Towers Galactica ride leaves visitors dangling for 30 minutes following breakdown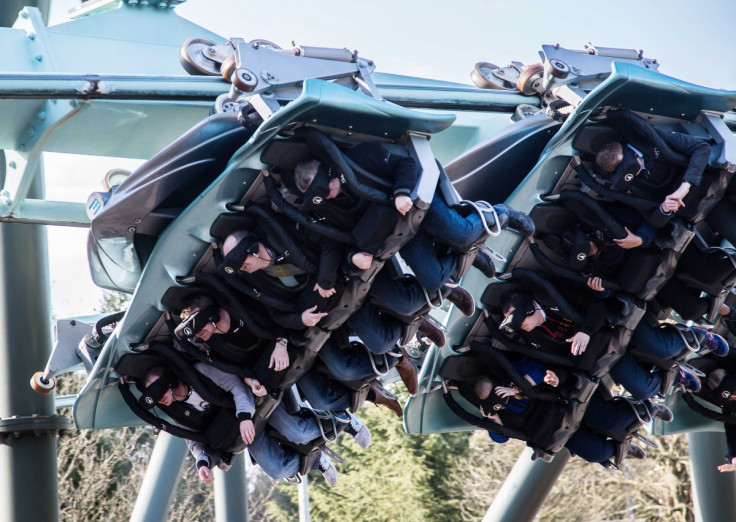 Alton Towers is facing more questions regarding the safety of its roller coasters after a ride broke down and left passengers stranded just six weeks after it opened. The Galactica roller coaster left 28 people face down for around 30 minutes in the torrential rain at the park in Staffordshire.
Alton Towers said the ride, which opened in March, broke down as a result of the heavy rain. The incident occurred less than a year after the horrific crash on the Smiler ride which left five people seriously injured, including two women who each had a leg amputated.
A statement from Alton Towers said: "Heavy rain obscured a sensor on Galactica which meant that the ride was automatically stopped. This is a standard safety feature on this ride and the ride was working exactly as it is designed to do. The health and safety of our guests is our number-one priority and our team followed standard procedures to get the guests off as quickly and as safely as possible."
Galactica, described as the world's first roller coaster entirely dedicated to virtual reality with each passenger wearing a specialist headset, used to be the Air ride before a multimillion pound refurbishment. Astronaut Chris Hadfield was the first person to publicly ride the roller coaster on 15 March before it opened to the public on 24 March.
The owner of the Alton Towers theme park, Merlin Attractions Operations Ltd, faces a huge fine after pleading guilty to breaching health and safety standards following the Smiler crash. Alton Towers said in November 2015 the crash was down to "human error" after the manual override system was used without the appropriate protocols being followed.
© Copyright IBTimes 2023. All rights reserved.