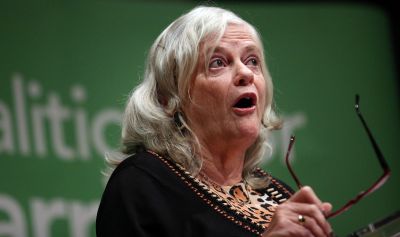 After stirring controversy and infuriating fans with her cleavage-baring racy gowns, Britain's Got Talent judge Amanda Holden has provoked the ire of Ann Widdecombe. The reality star slammed Holden for her "x-rated" outfits and even called for her to be fired from the family-friendly show.
"Britain's Got Talent, which airs at 7.30pm, nearly two hours before the watershed, is a family show, full of fun and innocence from Pudsey the dog to magicians to shadow acts to singing granddads," Widdecombe wrote lashing out at the UK presenter in her newspaper column.
"Then along comes Amanda Holden looking like an actress from an X-rated movie," the former British politician wrote in Daily Express referring to Holden's green Julien Macdonald ensemble that provoked several viewer complaints.
Following the semi-final round on Thursday (2 June), many flocked to Ofcom with complaints over the reality show judge's revealing outfits.
While Holden didn't seem to pay much heed to the complaints, the Strictly Come Dancing star urged ITV bosses to consider sacking Holden.
"ITV bosses will not be doing their job if they do not warn her under pain of being sacked," Widdecombe said. "Children do not need to see such exposure paraded as glamour and something to emulate."
Holden, who is no stranger to making headlines with her controversial dresses and fashion choices, had earlier admitted that she wanted to stir controversy. "I can't wait to wear my dresses. They are very flattering, very feminine and a few are... what you would expect," she told The Sun before appearing on BGT. "Will people be complaining to Ofcom? I hope so. I haven't done my job if they aren't!"
Twitter was indeed filled with furious complaints as viewers flocked to the social media platform to criticise the 46-year-old's revealing gown.
"Does Amanda Holden know this is a family show and doesn't need to dress like a stripper #BGT" someone tweeted, while another wrote, "@AmandaHolden will be down to mini nipple tassels by the final! Put em away love it's a family show #BGT."
The criticism continued as fans slammed Holden on other social media platforms as well. "Sorry but this dress was just too much or should I say not enough of it, my kids didn't know where to look," an Instagram user wrote.