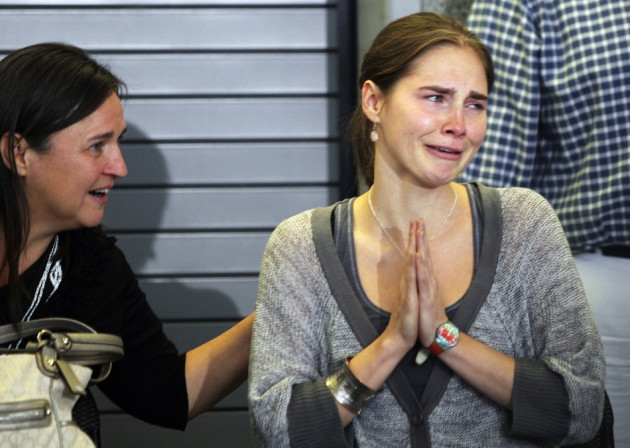 Italian prosecutors have demanded a 30-year jail sentence for former US student Amanda Knox for the alleged murder of her British flatmate Meredith Kercher.
Alessandro Crini asked Florence Appellate Court to find Knox and her ex-Italian boyfriend Raffaele Sollecito guilty of murder in a retrial over Kercher's death. He asked for Sollecito to be sentenced to 26 years.
He changed tack from the prosecution's previous assertion that Kercher was killed because she had refused to take part in a brutal sex game. He told the Florence court that a sexual motive was a side issue and that the killing was sparked instead by a row over a dirty toilet.
Crini said that Rudy Guede, a drifter from the Ivory Coast, had defecated in the apartment's toilet but left it unflushed and that had sparked a row between the two women.
In previous trials it emerged that Knox and Kercher had quarrelled over cleanliness in the house they shared with two Italian roommates.
Kercher, 21, from Croydon, south London, was found in November 2007 with her throat slashed inside her room in the apartment she shared with Knox in the university town of Perugia.
Prosecutors alleged that she was killed by Knox, Sollecito and Guede.
"Rudy Guede held Meredith Kercher with one hand and sexually abused her with the other while Amanda Knox and Raffaele Sollecito stabbed the English student with two knives," Crini told the court.
Knox and Sollecito were arrested days after Meredith's body was found and were sentenced to 26 and 25 years respectively in 2009.
That verdict was overturned on appeal in October 2011 and Knox and Sollecito, who have always claimed their innocence, were released. But earlier this year, Italy's Court of Cassation quashed the ruling and ordered a retrial.
Guede was sentenced to 16 years at the end of a separate trial and is serving his sentence in Viterbo jail, near Rome.
Knox and Sollecito deny the charges and claim that Guede acted alone. At an earlier hearing Sollecito described charges against him as "absurd".
Knox has refused to attend the retrial and remains in the US.