Reigning women's bantamweight UFC Champion Amanda Nunes wants to fight for the featherweight title in order to become the first ever simultaneous two-division women's champion in UFC history. Nunes KO'ed Ronda Rousey in 48 seconds when the duo clashed for the bantamweight title in UFC 207.
Rousey, the longest holding bantamweight Champion in UFC history, was made easy work of by Nunes, who now wants to emulate the feat achieved by Conor McGregor last November. The 28-year-old is the current world lightweight champion and had held the featherweight champion simultaneously before it was stripped away so an interim champion could be crowned.
"I want to move up. I want the winner of the featherweight (title fight). We'll see. Two belts," Nunes told FOX Sports. "I want to make history. It never happened before in the UFC, no woman did this before. I want to be the first one like I was the first Brazilian (women's champion), like I was first gay (UFC champion) and the first woman to have two belts, I will be."
The women's featherweight title will be introduced at UFC 208 where Holly Holm will fight it out against Germaine De Randamie to crown an inaugural champion for the title.
Nunes has previously faced Randamie to win her second UFC fight via TKO and would therefore want Holm to win the title so that she can get a new challenge.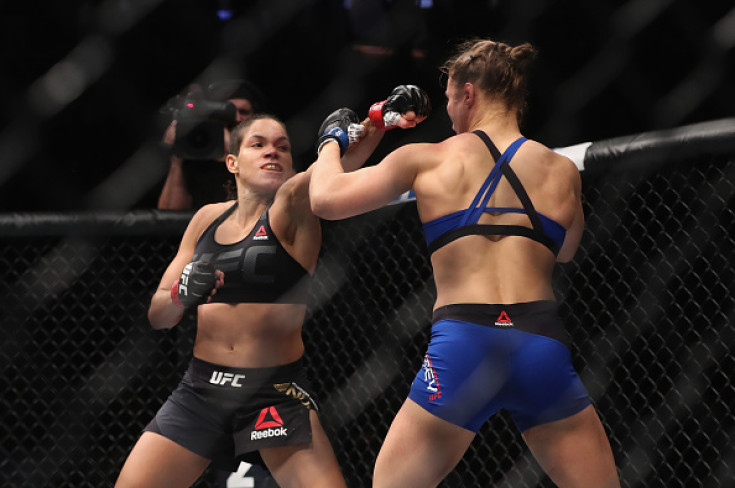 "I beat Germaine already and Holly Holm's next — I want to face (her) for sure," Nunes said. "If this fight (happens) and I have any problems striking, I will take this fight down. If I feel something wrong in striking because sometimes things can happen in MMA, I will put this fight down. I know I can take her down. I know my wrestling and my ground game are way better than hers. I can do that," she added.