The Samsung Galaxy S3 is the most anticipated smartphone of the year so far and has dominated the technology headlines since it launched on 3 May, and fans can now pre-order the phone on Amazon for just £507.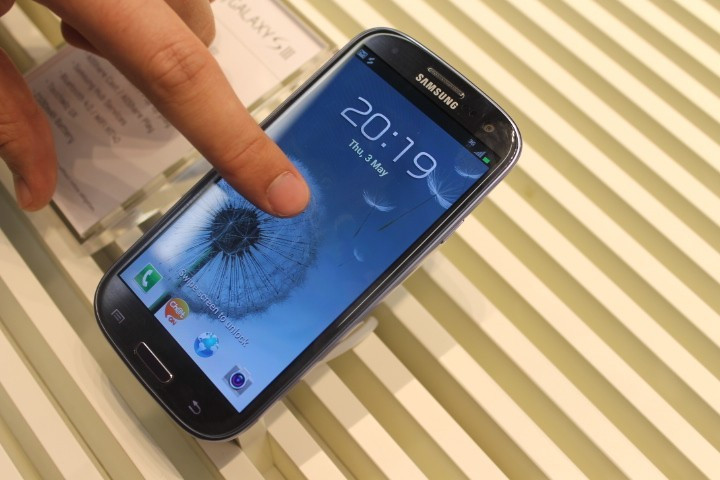 The Galaxy S3 will be released in just under two weeks' time with the US release on 1 June (for an unsubsidised price of $799) while the UK release takes place a day earlier, on 30 May. However, those who have pre-ordered from the brand store at Westfield Statford City will be able to collect their new smartphone a day earlier - on 29 May at 6pm.
Amazon's pre-order services are already underway and are offering the S3 in two colours - blue and white - from day one. The 16GB model will go on sale for $799 (approx £500), while those looking for extra storage space can opt for the 32GB version. A 64GB model has also been reportedly planned but there is no word on its availability as yet.
Samsung's next-gen phone is set to rival the HTC One X, in terms of hardware specifications and user experience. The phone boasts a powerful quad-core 1.4GHz processor based on the Exynos 4 Quad chipset and a 4.8in Super AMOLED HD display.
However, all is not rosy with the S3, as some reports have suggested that its look of the new phone, which has been criticised for being unaesthetic, has been design by the company's lawyers, more afraid of patent infringement lawsuits than anything else.
Samsung may have chosen to play it safe when designing the S3 and sought to eliminate strife with Apple over the latter's design patent rights. However, this doesn't seem to have impacted on sales as reports today suggest Samsung has received nine million pre-orders from 245 carriers in 190 countries.
As far as those concerns go, the only bothersome element in the S3 is the metallic band running around the edge of the smartphone, which resembles the iPhone's design element. Apple, however, cannot sue Samsung based on a single entity and needs multiple design element duplications to sustain a case.
In terms of prices, choosing between the S3 and the One X will be difficult. HTC is offering their phone on cheaper terms and with a better deal.
Pre-order the blue model of the Galaxy S3 through Amazon here and the white model from here.