Amazon Kindle Fire: Review Roundup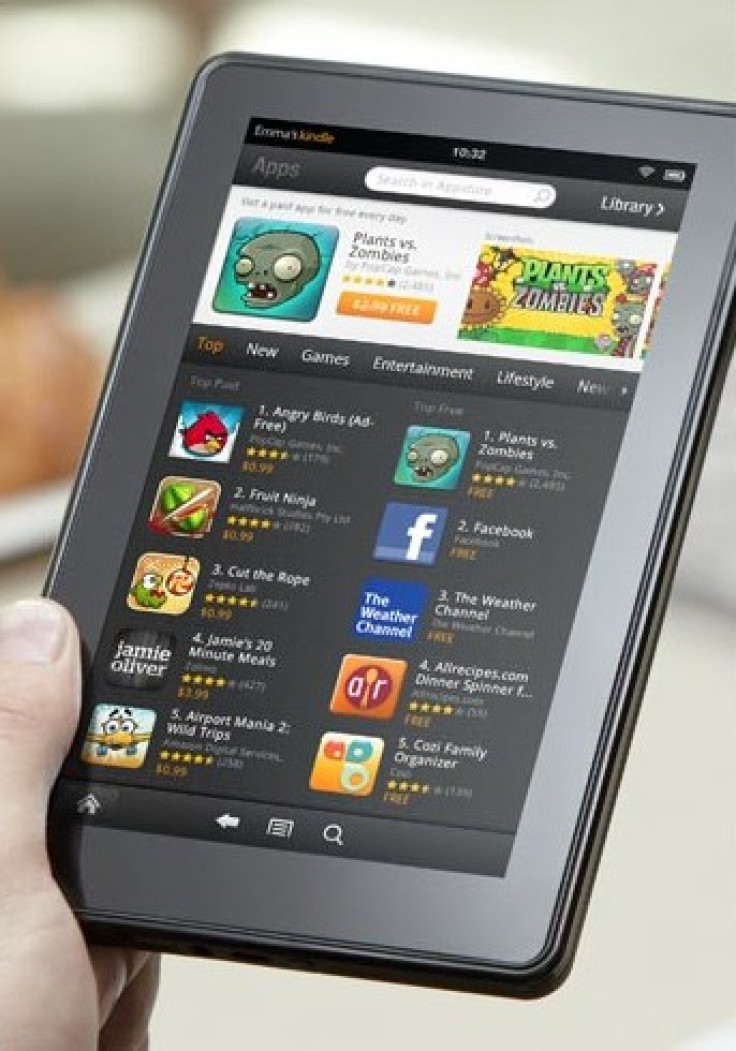 The Kindle Fire has shown that a budget tablet is what we all want. Now Google wants a slice of the action, too.
Amazon
The Amazon Kindle Fire goes on sale in the U.S. Tuesday, and while the touchscreen tablet isn't coming to the UK just yet, we've compiled a summary of reviews below.
The Kindle Fire was announced last month alongside a new Kindle (available in the UK for £89) and a touchscreen e-ink Kindle. The Fire packs a seven-inch touchscreen, 1GHz dual core processor, 512mb of RAM and runs the Android operating system.
Amazon has covered the OS with its own interface, offering a bookshelf-themed design from which you can read books and magazines, watch films, browse the Internet, list to music, play games and all the usual tablet tasks.
The selling point of the Kindle Fire is, undoubtedly, its price. At $199 it's considerably cheaper than the iPad 2, which starts at $499, but then - with hardware at least - you get what you pay for. The Fire doesn't have any cameras or 3G connectivity and there's no SD card slot for additional storage.
Wired
Positives:
"A great platform for casual video playback. A perfectly fine Android 2.3 app device. A price that pleads "buy me," repeatedly, until you crack a big grin, and give in like a good-natured father buying trinkets for the kids at Wal-Mart."
Negatives:
"Small screen size and insufficient processing power. Crap browser performance. Near useless as a magazine reader, and roundly trumped by superb e-ink Kindles as a book reader."
Gizmodo
"The Kindle Fire is stuck between e-ink minimalism and gleaming iPad decadence. That could either make it the goofy middle child in the tablet family, or a singular wunderkind. But the Fire will not be overlooked. Apple: Be afraid."
"The Fire doesn't feel like any other Android tablet-and that's a very, very good thing. From the minute you turn it on, the device is puzzlingly simple. Where's the home screen?, someone might ask you. All you see is a shelf, stacked with whatever you've looked at recently: novels, magazines, apps, TV episodes-everything. The emphasis is squarely on picking out stuff to stimulate your eyeballs (and ears) with -- all else is secondary. This makes for a UI that's not only simple, but intuitive. You don't have to think about how to use the Fire, because unlike Apple's dodgy attempts at interface metaphors, Amazon's works perfectly: here's my shelf of things."
"Reading, watching, browsing, and listening on the Fire are all tremendous, easy fun. Books, even very long ones, spring open quickly; page turning is, most of the time, very responsive."

MSNBC Technology:
"The Fire is certainly more fluid than the Kindle e-reader, which succeeds in spite of its user interface.
"Speaking of fluid, the Fire's Silk browser is nice and quick, and only gets faster as it wises up to your browsing patterns. If you always hit the msnbc.com home page then jump to Tech/Sci, it will start caching Tech/Sci in anticipation of your click."
"In some apps, you have to click a few times to even see the home button. This inconsistency made me miss the physical home button found on the iPad and many Android devices. While we're on the subject, I also missed volume up/down buttons, and wish that the on/off button wasn't located on the bottom, where it's so easily pressed on accident."
"The Kindle Fire can handle about 80 percent of what I want to do on an iPad, for 40 percent of the price. And much of what's missing won't be missing for long. Even if you can justify buying one iPad, you may look to the Fire as a second device in your high-tech home. And if you can't justify an iPad this holiday season, you might consider Amazon's alternative."
Engadget:
"So, the Kindle Fire is great value and perhaps the best, tightest integration of digital content acquisition into a mobile device that we've yet seen. Instead of having a standalone shopping app the entire tablet is a store - a 7-inch window sold at a cut-rate price through which users can look onto a sea of premium content. It isn't a perfect experience, but if nothing else it's a promising look into the future of retail commerce."
© Copyright IBTimes 2023. All rights reserved.