Amazon is planning on building a "revolutionary" new product that it believes "will be even bigger than Kindle" according to an ad the company posted online looking for people to join it Digital Products division in Boston.
In the invitation to the recruitment event, seen by the Boston Globe, Amazon hints that it is working on a secret project to deliver digital media "to customers in new ways."
The initial ad for the invitation-only recruitment event was posted on the Eventbrite website.
It reads: "Kindle's Digital Products team is looking for passionate, hard-working, and talented software engineers who have experience building fun, quirky, engaging experiences that appeal to a broad range of customers."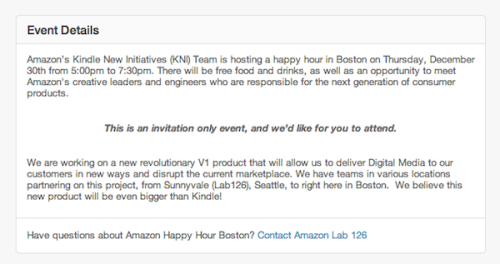 "You will have an enormous opportunity to make a large impact on the design, architecture, and implementation of cutting edge experiences enjoyed every day, by people you know."
So what can this new mystery device be?
Perhaps it's the Amazon Fire smartphone that was first rumoured in April 2013, when Windows Phone manager Charlie Kindel was hired by the internet giant to work on "something secret".
At the time, Kindel wrote on his LinkedIn profile: "I'm building a new team going after a totally new area for Amazon. I'm hiring cloud and mobile developers and testers, programme managers, and product managers."
In December, both Bloomberg and the Financial Times claimed that the device is in development, citing unnamed sources. HTC is apparently in talks with Amazon to produce three smartphones, although the Taiwanese manufacturer has refused to comment on the alleged partnership.
Amazon set-top box
Other reports suggest that Amazon is developing a set-top box to stream video over the internet, codenamed "Cinnamon" (which Bloomberg and the Wall Street Journal thought would be launched by the end of 2013), as well as an Android-based gaming console and controller which is meant to work with Amazon's Android app library.
The internet giant has also been trialling unmanned flying drones that could deliver orders to customers within 30 minutes - though many suspect this was all a promotional gimmick by Amazon to boost sales during the Christmas rush.