Amber Heard has slammed claims she was blackmailing her estranged husband Johnny Depp before filing for divorce and lodging domestic assault allegations. In a letter published online, Doug Stanhope, a friend of Depp's, accused The Rum Diaries actress of threatening to "lie about him in public" if he didn't agree to her terms.
In his guest column published on The Wrap, Stanhope claims he and some of Depp's inner circle felt the Alice Through The Looking Glass actor was in an unhealthy relationship with Heard but were hesitant to confront him. Denying the blackmailing allegations, Peter Sample, Heard's lawyer, told the website in a statement: "[The] allegations against Ms Heard are absolutely and unequivocally false."
Sample added that Stanhope's claim "has no basis in reality and is nothing but the typical celebrity muckraking for profit". The lawyer demands that Stanhope's column, which was published on 29 May, is removed from the website and that a retraction is made. The Wrap said they will respond through "legal counsel".
According to Stanhope, Heard has "f****d" with Depp, 52, at his "weakest" and claims to have been with the Hollywood star just hours before he allegedly struck Heard with an iPhone during a domestic argument. Stanhope writes: "Bingo and I were at Johnny's house for most of that Saturday until just before the alleged assault. We assumed initially that his dour mood was because of his mother's death the day before.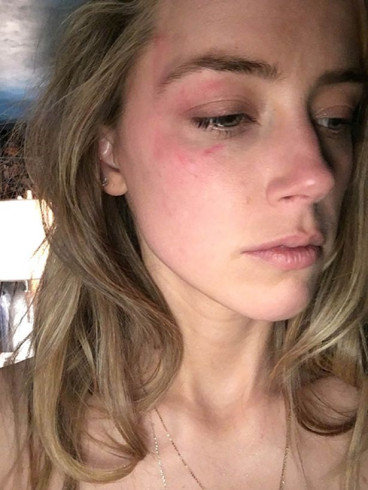 "But he opened up in the most vulnerable of ways that it was not only his mother, but that Amber was now going to leave him, threatening to lie about him publicly in any and every possible duplicitous way if he didn't agree to her terms. Blackmail is what I would imagine other people might put it, including the manner in which he is now being vilified."
After finally confronting Depp about his fears, Stanhope says: "[Depp] seemed dumbstruck that nobody had ever come clean about this and he thanked everyone for being honest. He still pronounced his love for Amber but was presciently aware that she was going to pull off some kind of ruse to f**k him over. He hadn't slept in days with anxiety."
In court documents, Heard, 30, claims Depp smashed objects around their apartment and threw an iPhone at her face leaving her bruised. The actress said she "lived in fear" and was granted a temporary restraining order against Depp by a judge.
Defending his friend against the assault allegations, Stanhope concluded: "Abusing women is b******t. Johnny doesn't abuse anyone. And he told me that day ahead of time that she'd pull some kind of s**t like this. Johnny Depp got used, manipulated, set up and made to look like an a*****e. And he saw it coming and didn't or couldn't do anything to stop it."