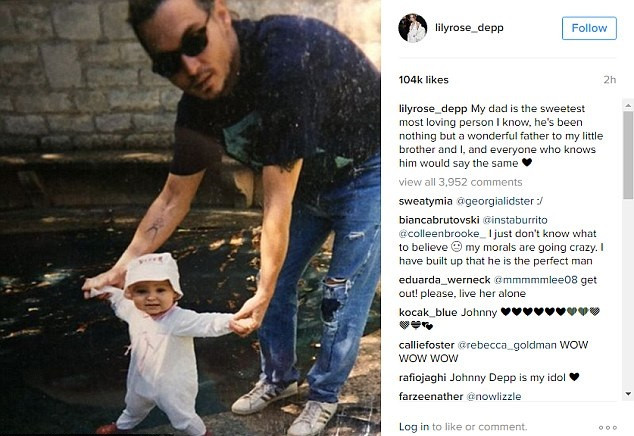 Lily-Rose Depp has defended her father following abuse allegations, describing him as "the sweetest most loving person I know." The 17-year-old model slammed accusations of physical and emotional abuse made by the actor's estranged wife Amber Heard.
Posting a photo on Instagram of herself as a toddler being supported by her father, she said: "My dad is the sweetest most loving person I know, he's been nothing but a wonderful father to my little brother and I, and everyone who knows him would say the same."
Lily-Rose, who was this week announced as the new face of Chanel, is the eldest of Depp's two children with French actress and singer Vanessa Paradis. They also have a son together, Jack, 14.
While the former couple separated in 2012 after 14 years together, Paradis also spoke out against the "outrageous" claims made by Heard, saying: "In all the years I have known Johnny, he has never been physically abusive with me and this looks nothing like the man I lived with for 14 wonderful years."
According to Mail Online, TMZ reports that she added in a note, that he was "the father of my children and is a sensitive, loving and loved person".
The statements from the mother-daughter duo reiterate the sentiments expressed by Johnny Depp's first wife, Lori Anne Allison. While the pair divorced 30 years ago, she too came forward to defend him, stating that he was not capable of hurting anyone and never even raised his voice in anger.
Heard filed for divorce from Depp earlier this week, just a day after his mother Betty Sue died. She later submitted documents to court providing a detailed account of three incidents of alleged abuse, claiming she "lived in fear" of his violent outbursts during their short-lived 15-month marriage and feared that he would return to the L.A. home to "terrorise me physically and emotionally."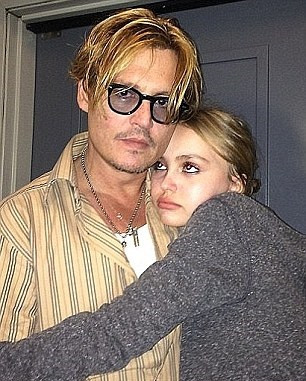 Recounting a catalogue of violent altercations with the actor she claimed: "I endured excessive emotional, verbal, and physical abuse from Johnny, which has included angry, hostile, humiliating, and threatening assaults to me whenever I questioned his authority or disagreed with him. I live in fear that Johnny will return to [our house] unannounced to terrorise me, physically and emotionally."
The Danish Girl star was granted a temporary restraining order against Depp, who it was ruled must stay 100 yards away from the actress and should not try to contact her until a hearing on 17 June.
Depp's team responded to the allegations of domestic abuse, claiming that the accusations levelled at him were motivated by financial gain. The Independent reports that Depp's lawyer Laura Wasser said in a statement: "Amber is attempting to secure a premature financial resolution by alleging abuse. Her current application for a temporary restraining order along with her financial requests appear to be in response to the negative media attention she received earlier this week after filing for divorce."
The three-time Oscar nominee is currently in Portugal at the Rock in Rio Lisboa music festival with his band The Hollywood Vampires.