Amber Heard could receive a $20m payout following her divorce from Johnny Depp after just 15 months of marriage. On 27 May, The Danish Girl actress was granted a temporary restraining order against her estranged husband after she accused him of domestic violence.
A Los Angeles judge ordered Depp to stay 100 yards away from the actress and ruled that he should not try to contact her until a hearing on 17 June, after she alleged that he threw an iPhone at her leaving bruises to her face.
Now, according to legal experts, as the pair did not have a pre-nuptial agreement, the 30-year-old is expected to receive at least half of their combined wealth accrued since they were married. Depp's legal team have maintained that the allegations against the Pirates of the Caribbean star are motivated by financial gain after he rejected an initial divorce settlement.
The actress reportedly told Depp that she wanted a divorce, however his lawyers rejected her claims for $50,000 (£34,000) a month in support, $125,000 (£85,000) for her legal fees, their LA penthouse, his Range Rover and custody of their Yorkshire terriers Mail Online reports, allegedly prompting her to go public with the acrimonious split.
Comedian Doug Stanhope has backed Depp's claims that the allegations are nothing more than an attempt to profit from the split, Mail Online reports. He alleges that Heard threatened to make slanderous accusations against Depp "in any and every duplicitous way" if he did not agree to her terms.
Heard reportedly asked the 50-year-old for a divorce the day after his much-loved mother Betty Sue passed away. New details have emerged suggesting that the alleged altercation stemmed from a disagreement over the funeral arrangements after Depp's children said they didn't want their father's wife at the service.
A source told The Sun: "Jack and Lily-Rose were certain they didn't want her at Betty Sue's deathbed — and that caused huge friction. Johnny told Amber but says she acted ''like a petulant child''. That's when things turned nasty and a huge row erupted."
Heard, who was dating Depp for three years prior to their marriage said their relationship was marred by abuse. "I endured excessive emotional, verbal, and physical abuse from Johnny, which has included angry, hostile, humiliating, and threatening assaults to me whenever I questioned his authority or disagreed with him. I live in fear that Johnny will return to [our house] unannounced to terrorize me, physically and emotionally."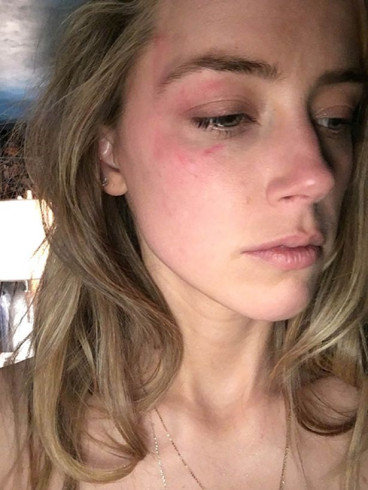 She added that his violent outbursts were fueled by his alleged use of drugs and alcohol. "Johnny has a long-held and widely acknowledged public and private history of drug and alcohol abuse. He has a short fuse. He is often paranoid and his temper is exceptionally scary for me as it has proven many times to be physically dangerous and/or life threatening to me."
There have also been reports that the tumultuous marriage was plagued by jealousy over Heard's previous partners including Cara Delevigne.
The former couple were also at the centre of an embarrassing legal wrangle after illegally bringing their dogs into Australia. The pair issued an unconvincing apology video which was widely derided.
The Hollywood couple first met on the set of The Rum Diary shortly after the father-of-two ended his 14-year relationship with French actress Vanessa Paradis. They married in February 2015, after dating for three years.
If you have been affected by any of the issues mentioned in this article, you can contact Solace Women's Aid on 0808 802 5565 or the national Domestic Violence Helpline, run in partnership between Refuge and Women's Aid, on 0808 2000 247.