Ukraine Nazis: Is America Backing EuroMaidan Extremists?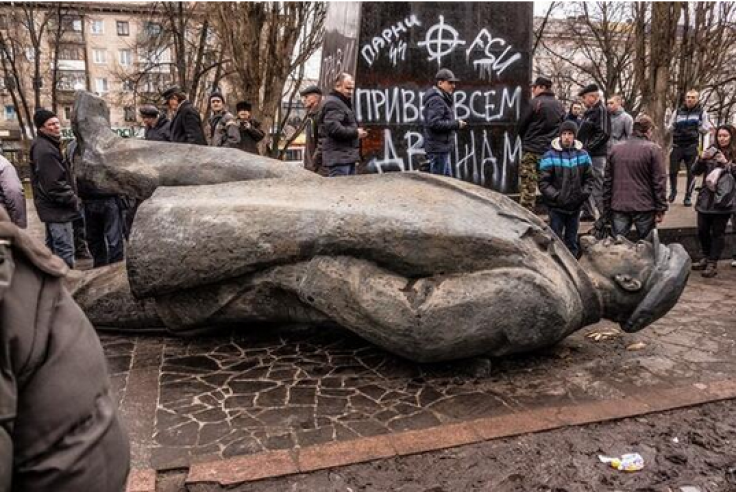 Signs of fascism and neo-Nazi extremism were evident during the Euromaidan protest, according to independent news magazine AlterNet.
White supremacist banners and Confederate flags were draped inside Kiev's occupied City Hall, while demonstrators displayed Nazi SS and white power symbols, AlterNet explained.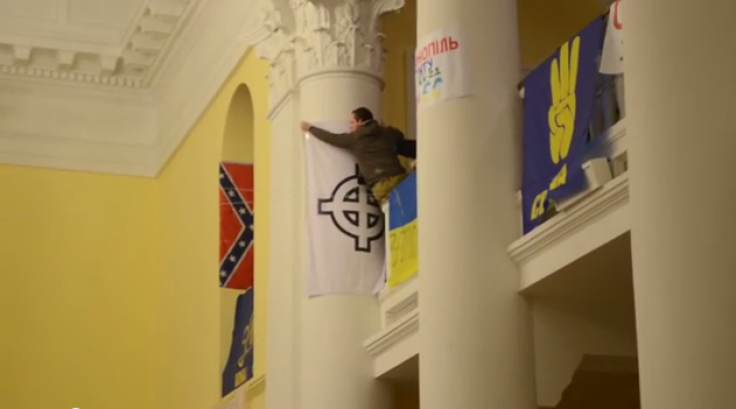 White supremacist banners inside Kiev's City Hall
Youtube
EuroMaidan protesters also destroyed a memorial to Ukrainians who died battling German occupation during World War II.
"The taking down of the 'Soviet Soldier' in the town of Stryi, Lvov region, turns a new page in the chaos that gripped the nation in November, and has taken on dangerously nationalist overtones in the past fortnight", according to Russia Today.
According to a member of anti-fascist Union Ukraine, a group that monitors and fights fascism in Ukraine, "There are lots of nationalists here [EuroMaidan] including Nazis. They came from all over Ukraine, and they make up about 30% of protesters.
"Different groups [of anarchists] came together for a meeting on the Maidan. While they were meeting, a group of Nazis came in a larger group, they had axes and baseball bats and sticks, helmets, they said it was their territory. They called the anarchists things like Jews, blacks, communists. There weren't even any communists, that was just an insult. The anarchists weren't expecting this and they left. People with other political views can't stay in certain places, they aren't tolerated," a member of the group continued.
One of the big political parties behind the protests is the ultra-nationalist Svoboda, whose leader, Oleh Tyahnybok, called for the liberation of his country from the "Muscovite-Jewish mafia".
In 2012, the EU parliament voiced concern about "rising nationalistic sentiment in Ukraine, expressed in support of the Svoboda party".
"[Parliament] recalls that racist, anti-Semitic and xenophobic views go against the EU's fundamental values and principles and therefore appeals to pro-democratic parties in the Verkhovna Rada [Ukraine's legislature] not to associate with, endorse, or form coalitions with this party."
In 2005 Tyahnybok signed an open letter to then Ukrainain president Viktor Yushchenko urging him to ban all Jewish organisations, including the Anti-Defamation League, which he claimed carried out "criminal activities [of] organised Jewry", ultimately aimed at the genocide of the Ukrainian people.
Is the US backing the neo-Nazis?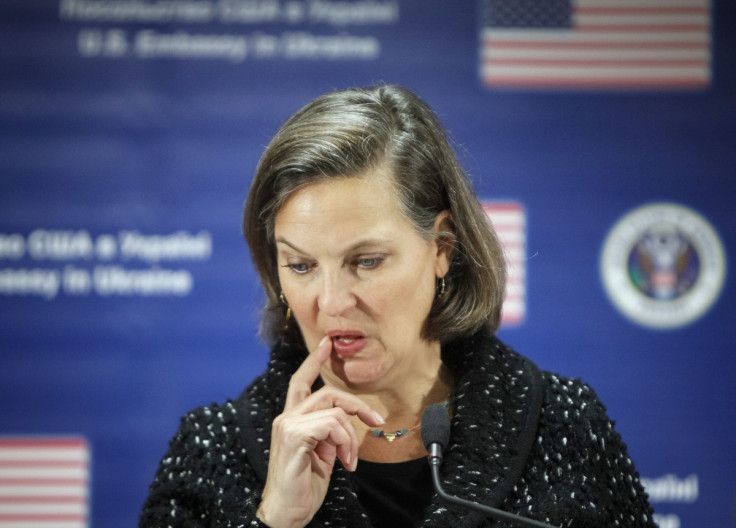 In December, US Republican senator John McCain flew to Kiev to meet the three leaders of the opposition at a rally against then president Victor Yanukovich. McCain sparked criticism when he shook hands with Tyahnybok.
In a leaked phone conversation with the US ambassador to Ukraine, Geoffrey Pyatt, US secretary of state Victoria Nuland revealed her wish for Tyahnybok to remain "on the outside" but to consult opposition leader Arseniy Yatsenyuk "four times a week".
Fifteen thousand Svoboda members held a torchlit ceremony in the city of Lviv in January to honour Stepan Bandera, a Nazi collaborator who led forces to ethnically cleanse western Ukraine of Poles in 1943 and 1944. Over 90,000 Poles and many Jews were killed.
"Lviv has become the epicentre of neo-fascist activity in Ukraine, with elected Svoboda officials waging a campaign to rename its airport after Bandera and successfully changing the name of Peace Street to the name of the Nachtigall Battalion, an OUN-B wing that participated directly in the Holocaust," AlterNet explained.
In Washington, the OUN-B reconstituted under the banner of the Ukrainian Congress Committee of America (UCCA) .
"By the mid-1980s, the Reagan administration was honeycombed with UCCA members. Reagan personally welcomed Stetsko, the Banderist leader who oversaw the massacre of 7,000 Jews in Lviv, in the White House in 1983.
"'Your struggle is our struggle,' Reagan told the former Nazi collaborator. 'Your dream is our dream'," AterNet claimed.
In 2010, Viktor Yushchenko who was president of Ukraine at the time, awarded Bandera the title National Hero of Ukraine.
"When the European parliament condemned Yushchenko's proclamation as an affront to European values, the UCCA-affiliated Ukrainian World Congress reacted with outrage, accusing the EU of another attempt to rewrite Ukrainian history during WWII," AlterNet continued.
"On its website, the UCCA dismissed historical accounts of Bandera's collaboration with the Nazis as Soviet propaganda."
Following the demise of Yanukovich's regime, the UCCA helped organise rallies in cities across the US in support of the EuroMaidan protests.
AlterNet concluded: "When several hundred demonstrators marched through downtown Chicago, some waved Ukrainian flags while others proudly flew the red and black banners of the UPA and OUN-B. 'USA supports Ukraine!' they chanted."
© Copyright IBTimes 2023. All rights reserved.