As the world flocks to watch Bradley Cooper play a US sniper fighting al-Qaeda in Iraq, Russian social media users have invoked the memory of a very different assassin - one whose story is even more incredible than that of Chris Kyle.
Lyudmila Pavlichenko has never been the subject of a Hollywood blockbuster, but her exploits against the Nazis on the Russian front during World War Two read like a particularly fantastical movie script. One of 2,000 women recruited as marksmen by the Soviet Union during the Second World War, she still holds the record for the high confirmed number of kills – 309 – of any sniper in history (Chris Kyle, a former US Navy SEAL, is credited with 160 confirmed kills)
She became a hero in the Motherland, and played a pioneering role in US-Soviet relations during the war against Hitler - striking a typically cutting blow against male chauvinism in the process, and inspiring women on both sides of the Iron Curtain.
In early 1942, just a few months after Hitler's war machine embarked on Operation Barbarossa, Pavlichenko fought on the frontline during the Siege of Sevastopol, a campaign fought by the Axis powers of Germany, Romania and Italy against the Soviet Union for control of the Crimean port. The offensive led to a high Soviet death toll, but helped make the young sniper into a legend.
In May, she was cited by the Southern Army Council for killing 257 German soldiers, but one month later, she was wounded by mortar fire and was withdrawn from combat less than a month after recovering, due to her growing status. Yet she would soon become a diplomatic weapon, an embodiment of the values Joseph Stalin wished to present to his putative allies.
Pavlichenko arrived in Washington DC for her first publicity visit in late 1942. Unable to speak English, she stood uncomfortably next to her translator in her Soviet Army uniform and faced the reporters. As a decorated lieutenant in the Red Army's 25<sup>th Rifle Division, Pavlichenko had arrived on American soil to rally US support for a "second front" in Europe, at the behest of Stalin himself.
Pavlichenko was the first Soviet citizen to be received by a US president when Franklin Roosevelt welcomed her to the White House, but she was astonished by the questions put to her by American journalists. "One reporter even criticised the length of the skirt of my uniform, saying that in America women wear shorter skirts and besides my uniform made me look fat," she later said.
Although she was little more than the "girl sniper" to reporters at the time, Pavlichenko soon put the press pack in their place. When asked when Soviet women could wear make-up on the front, the young assassin paused. "There is no rule against it," she said, after some thought. "But who has time to think of her shiny nose when a battle if going on?"
Refused to become nurse
Born in Bila Tserkva in central Ukraine on 12 July 1916, Pavlichenko and her family moved to Kiev when she was 14. Her future career blossomed in the city as she joined a DOSAAF - Volunteer Society for Cooperation with the Army, Aviation – a Soviet paramilitary sport organisation. While working as a grinder at the Kiev munitions factory, Pavlichenko developed into an amateur sharpshooter.
Germany began its invasion of the Soviet Union in June 1941, when Pavlichenko was in her fourth year of studying history at Kiev University. She was in the first round of volunteers at the recruiting office, where she requested to join the infantry.
Pavlichenko was assigned to the Red Army's 25<sup>th Rifle Division, after refusing the option of becoming a nurse: "I joined the army when women were not yet accepted." She made her first two kills as a sniper near Belyayevka, in Ukraine's Odessa Oblast.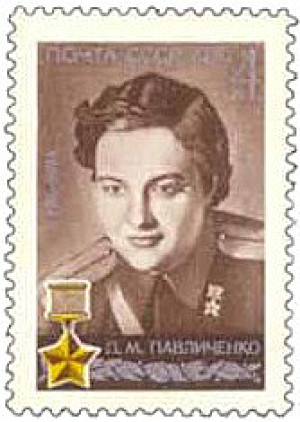 Having attained the rank of major, Pavlichenko never returned to combat after her injury, and instead trained Soviet snipers until the end of the war.
In 1943, she was awarded the Gold Star of the Hero of the Soviet Union, and returned to finish her studies at Kiev University before beginning a career as a historian. Until 1953, she worked as a research assistant of the Chief HQ of the Soviet Navy and was later active in the Soviet Committee of the Veterans of War.
Pavlichenko died aged 58 on 10 October 1974 and was buried in Moscow, but her war record was recognised by the Soviet Union in the form of two commemorative postage stamps – the last issued two years after her death.