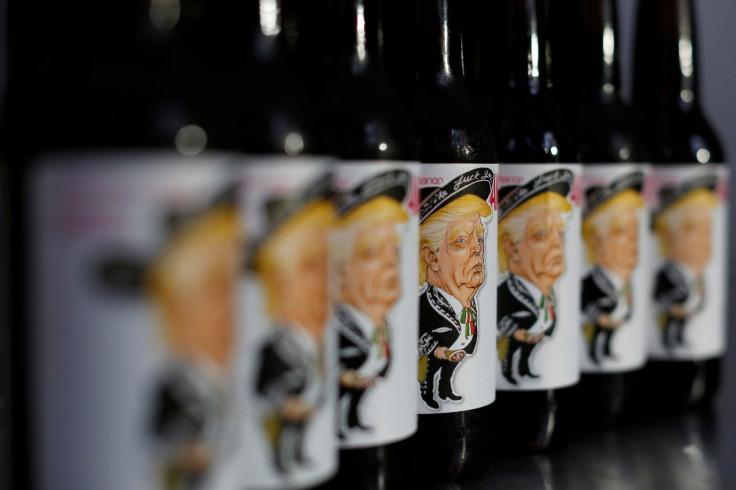 First there was Donald Trump piñatas, then toilet paper and now the US president has become the face of a new beer conceived by Mexican and US brewers. Trump is featured on the beer's bottles as a gun-slinging, frowning, mariachi folk musician that hopes to celebrate cross-border partnership.
The new Amigous Cerveza craft beer shows a grumpy Trump wearing a sombrero and his trousers held up with a swastika belt buckle. The beer misspells "amigo" as a way of making fun of bad American pronunciation of the Spanish word for friend.
According to Reuters, the bottle mocks the president's campaign rhetoric against Mexico and his promise to build a wall along the US-Mexico border. Amigous Cereveza's label notes that Trump belongs "in a mad house, not the White House".
Amigous Cerveza - a take on New England Indian Pale with a hint of mango - was the brainchild of Reguera from Cru Cru, Isaac Aroche from Error de Diciembre and Dave Cole from Epic Brewing-USA. The three met at Expo Cerveza Mexico 2016 and came up with their idea, CNN en Español reported.
"We knew that Trump label was going to be controversial, but it's been selling extremely fast," Luis Enrique de la Reguera, chief executive of brewery Casa Cervecera Cru Cru, told Reuters.
The beer, which launched in May, sold out its initial batch of 1,200 bottles and 400 litres on tap within a week. But that is not stopping some from making a somewhat odd request from Cru Cru's Facebook page. According to Grub Street, Americans are begging the Mexican brewery to mail them empty bottles purely for the labels.
"I really, really want some Amigous Cerveza," Hal Molitor wrote on the a photo of the beer. "If it cannot be imported, for some silly reason or another, could I get a couple or four empty bottles with fresh labels?"