Amir Khan joined I'm A Celeb to escape marriage woes with Faryal Makhdoom: 'He needed a break'
A friend of the boxer's has revealed the real reason he went into the jungle.
Faryal Makhdoom has been showing her support for husband Amir Khan on social media as he gets through his highly paid stint on I'm A Celebrity, but the British boxer reportedly couldn't wait to get away from home.
The 30-year-old sportsman, who is being paid £400,000 (€450,000) to star on the Australian-based show, allegedly told long-time friend Saj Mohamed that he was looking forward to taking a break from the drama at home with Makhdoom, who he married in 2013 in New York.
Joining the ITV show was "the only space he could get away to" in order to eschew more marriage and family drama, The Mirror reports.
Mohamed said: "It was a tough time. He had nobody around him. He fell out with his family and then he fell out with his wife. It's so great to see him back with a smile.
"Everyone was shocked he decided to go in. But he needed a break.
"He's had a really horrible year. He just wanted to get away. The only space he could get away without getting into any more dramas or trouble is there."
Amid family feuding, Khan announced to his Twitter followers in August that he was planning to divorce his pregnant wife Makhdoom, 36, an American-Pakistani cosmetics entrepreneur. He also accused his wife of cheating on him with fellow British boxer Anthony Joshua.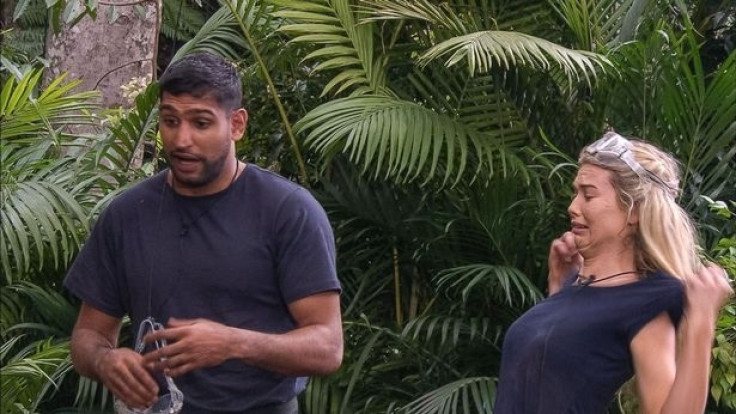 He tweeted: "Thanks to Faryal for clearing up the accusations she had made about my family in the past which were false".
He added: "Unfortunately it didn't work out between Me and Faryal and we are still going ahead with the divorce. We are in good talking terms.
"We have to think about our daughter Lamaisah who I will always be there for. I wish Faryal all the very best for the future."
The couple, who already have daughter Lamaisah together, have rekindled their relationship in time for Christmas, with Khan sharing an Instagram snap of them cuddled up on the sofa. He captioned the shot: "With my 4 month pregnant wife, after sorting out all the issues. Closing the year with a happy ending @faryalmakhdoom".
Khan was said to be looking forward to a period of time without his mobile phone, though Mohamed admitted he had never seen the ITV show.
He continued: "He'll have no mobile, no friends and no family. He wants to enjoy it – but he had no idea what he let himself in for.
"He's been in a lot of stressful situations that should never have been made public. He's paid the price for it this year.
"He knows people think he's cocky and arrogant, and he wants to change that. Everyone who knows him knows he's nothing like that.
"He's gone through so much and achieved so much. I think he's realising apart from the last year, the previous 12 had been amazing.
"It would be great to see him win. He makes great TV and has been entertaining. I think he deserves to win it."
"If you took him out of the jungle, the show wouldn't be the same," he added.
I'm A Celebrity continues tonight on ITV at 9pm.